The latest episode of Dexter relied on a couple of significant plot holes to move the season's story along:
1. Are we really meant to believe Lumen would somehow still have her cell phone? That her abductors wouldn't have taken/destroyed it when they first captured her?
2. Considering how careful Dexter typically is when it comes to his kill rooms, there were multiple ways in which he and Lumen would have been caught on "Take It." Chase sprinted through a hotel with security cameras in his pursuit of the latter. He also broke down the door that connected his room with Dexter's.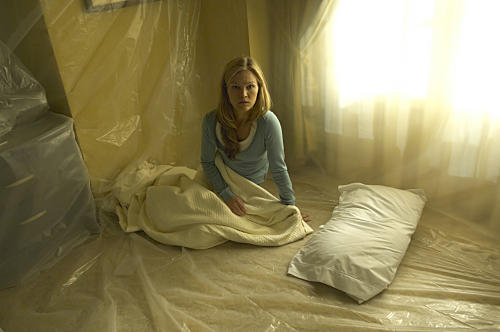 I'd be willing to overlook these developments if they contributed to an especially tense hour, but we're more than halfway through this season and I continue to be disappointed, mostly due to the presence of Lumen.
I'm curious to hear what readers think of this character... because I can't get remotely invested in her. It's partly due to the performance of Julia Stiles.
This actress doesn't specialize in subtlety, typically overacting and making me feel like she has no business sharing a screen with Michael C. Hall. It's a major reason why I can't buy into the characters' supposed bond.
I want to get into the concept that Lumen is the first person around whom Dexter has truly been himself, I really do. But I would rather have seen Dexter on his own this season, dealing with Rita's death by either going on a major killing spree or distancing himself as much as possible from his Dark Passenger out of guilt.
My favorite scene of the episode, by far, was when Jordan called Dexter on to the stage and forced him to talk about Rita's death. Was he just pretending to have trouble with it? Is he really still struggling with what happened? I would love to see more of this.
I know Dexter's relationship with Lumen is based on his desire to help her in a way in which he couldn't help Rita - but it's just not a direction I'm satisfied with.
To end this review on a positive note, though, the final scene was intriguing. Sure, there's a fear that this Quinn/Liddy storyline too closely resembles season two with Doakes learning just what Dexter is, but at least seeing Liddy get this close to the truth raises the stakes a whole lot. I'll also give nothing but props to Peter Weller, who appears to be having a blast as Liddy.
As I say every week, Dexter's interactions with Lumen are not keeping me interested, so the more this serial killer's world tightens around him, the greater the chance for the kind of suspense I expect from this show.
Matt Richenthal is the Editor in Chief of TV Fanatic. Follow him on Twitter and on Google+.