As detailed in our review of "Never Been Kissed," we weren't huge fans of Coach Beiste's storyline on this week's Glee episode.
While the show wanted viewers to think Will was being noble by laying a smooch on his fellow faculty member, wasn't he just being manipulative and presumptuous?
After all, if you're Beiste and you hear how this man thinks you're beautiful "inside and out" and then he kisses you... wouldn't you think there was something romantic going on? And/or, wouldn't you not want your first kiss to be pity-inspired?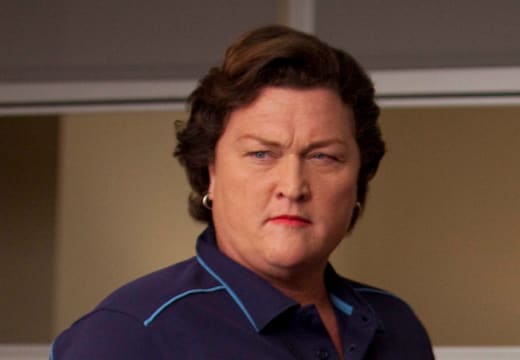 Of course, that complaint has nothing to do with the performance of Dot Jones. This actress has been a welcome addition to Glee, and she discussed the unique character she portrays in a recent interview with EW:
What was your reaction to the episode?
It's such a heartbreaking episode and yet so rewarding. And how cute are those boys singing that
Katy Perry song
? I have it on my Facebook page. We watched the episode on the set. I was like, "Oh my God, this is amazing." Matt [Morrison] and I saw each other afterwards and he goes, 'Come here. Give me a kiss.'"
Do jokes about Beiste's appearance bother her?
I think that's hilarious. It serves a purpose for the message. I wasn't offended at all. I thought it was hysterical. Maybe it will make people think outside of the show.
Did Ryan Murphy tell her anything about Coache Beiste before she signed on?
I signed a blank contract. I didn't know anything about the character. I didn't care.
Matt Richenthal is the Editor in Chief of TV Fanatic. Follow him on Twitter and on Google+.