Last night's Gossip Girl, "War at the Roses," pitted Dan against Chair in a new spin on their war of attrition, which brought the enemies together, as TVF's official review notes.
Now it's time for one of our favorite pieces of Gossip Girl coverage, N.Y. Magazine's trademark reality index. Excerpts from the site's take on the night's high and low points: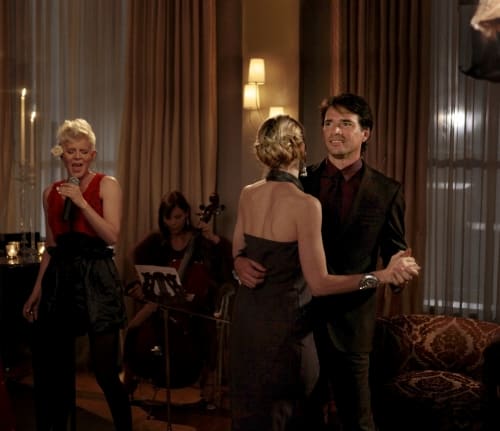 It is in fact fall! Plus 1.
While we highly doubt Colin's focus would have been on Serena's hair and lips in the Skinemax-filmed scene where they flirt over coffee, the slow-motion blurring of words while both of them utter nonsense and think only about sex felt real. Plus 3.
Dan, who lectured Jenny about stooping to Blair and Chuck's level last week, so quickly forgot his morals? Minus only 1, because it doesn't surprise us, but Dan wants everyone to think he's the good guy. He'd at least think twice.
Lily to Rufus: "I know you think you're rock-and-roll, but you are wearing a $2,000 jacket." Plus 4. We love it when people on this show say things like this.
Eric, as he progresses through high school, has bulked up his muscles and yet simultaneously adopted dowdy plaids and cardigans. It's like he's Dan Humphrey lite. Is there anything gayer than that? Plus 5.
Wait, Gossip Girl now has geo-tagging functionality where you can see where people are walking? Even Gawker Stalker doesn't have that. Jimmy Kimmel would have been all over this shit. Or at least George Clooney. Minus 3.
The actual pictures of a young Leighton Meester were a nice touch. Plus only 2, though, because the real baby Blair would have been wearing makeup.
Dorota's toast is, of course, adorable, though even the vague tolerance given to it by the Upper East Side guests is a bit of a stretch. Plus only 1.
A Chair sexual reunion? On a piano? With Robyn's "Dancing on My Own" playing in the background?? Call us old-fashioned, but Plus 100.
Serena has the Gettysburg Address memorized? Minus 20.
Blair calls Jenny "Gothic Barbie." Plus 3.
Steve Marsi is the Managing Editor of TV Fanatic. Follow him on Google+ or email him here.