Will Callie's hookup with Mark on last week's episode of Grey's Anatomy come back to haunt her when Arizona returns, or will it be more like a minor bump in the road?
"Callie and Arizona will be back together soon," says human spoiler alert Shonda Rhimes.
According to the Grey's Anatomy creator, Arizona will soon show up on Callie's doorstep, and "[The breakup] was a way to jump-start the next phase of their storyline."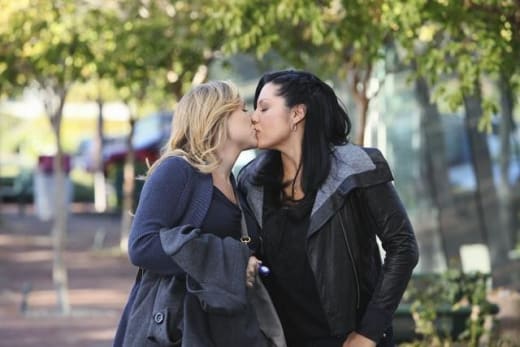 Look for Callie and Arizona to get back together soon.
As for Mark Sloan ... it's just Mark Sloan. "Mark is her best friend, they slept together before, so it's just recycling," Shonda says. "Two people having sex does not necessarily mean they're in love, or that they're going to be together, or that it means anything."
Grey's Anatomy has certainly taught us that much!
The breakup was, of course, largely forced by a real-life event in Jessica Capshaw's maternity leave. But it was also handled realistically, and we have complete faith that Calzona's reconciliation will be just as believable. And hopefully take place in the shower.
Steve Marsi is the Managing Editor of TV Fanatic. Follow him on Google+ or email him here.