House aired its 467th episode about religion and lying this week.
But while those aren't anything resembling fresh territory for the series, "Small Sacrifices" did give us a few funny moments at least.
From the opening line about Cuddy's hatred for chickens (why else force House to choke one?), to House and Wilson's unique conversation that combined a cancer diagnosis with accusations of the latter fibbing about a flat tire, to the look Foreman gave Chase when the latter explained he had no choice but to ditch him because it was a threesome, the hour was full of great quotes and moments.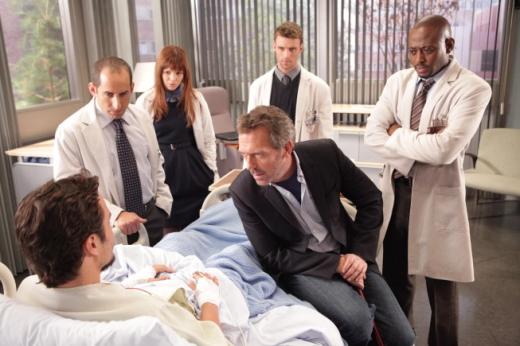 On a larger scale, however, the installment was problematic.
Let's start with Wilson and Sam. It was a stretch to believe he'd have referenced her questionable files/studies while on one knee proposing.
He had decided to take this step before ever seeing those files and before House gave him the brief speech about how any mis-dosage in them simply reinforced how perfect Sam was for Wilson. The entire exchange that led to this couple's fight/break-up just felt like a contrived way to make Wilson single again.
Props to Robert Sean Leonard, however, who does a great job of mixing anger with sadness.
Then there was the entire storyline between Taub and his wife. I'd love to see more of these two on a regular basis. I find the relationship interesting. But does anyone believe we'll actually revisit this situation again next episode or, heck, even this season?
It's difficult to care much about issues of team members because the show so infrequently gives us anything of that nature. It's a nice change of pace when House does go there, but it needs to do so on a more consistent basis in order to keep me invested.
Lastly, I've expressed my frustration over the last couple weeks with the fight between Cuddy and House. It just seems silly for her to be mad at him over lying in order to save a patient, while also being unable to separate the pair's personal life from its professional one.
But the game of trying to catch Cuddy in a lie led to a couple humorous conversations, as well as a nice payoff of Cuddy getting angry over House's use of her failed marriage as part of his grand point about lying.
Yes, everybody lies at times, but that doesn't mean trust isn't important in a relationship. It's a good message, even if House lied to Cuddy while stating it. Still, I wasn't especially moved by the closing shot of House considering his misleading ways only because, again, we've been here dozens of times with the character. We're well aware of his philosophy at this point and I, for one, don't expect him to change.
What did everyone else think of the episode?
Matt Richenthal is the Editor in Chief of TV Fanatic. Follow him on Twitter and on Google+.