Before I get into the review of "Manny Get Your Gun," a request: Dunphys, can I please be invited to your next Italian Accent Night?!?
Modern Family aired one of its best episode to date this week by organically incorporating numerous heartwarming moments into hilarious scenes and situations. Sometimes, this sitcom lays on the sentiment a bit too thick - but the occasion of Manny's 13th birthday didn't require a concluding narration to get its point across.
Instead, it provided us with a depiction of realistic dilemmas (realizing you aren't your child's favorite, coming to terms with your daughters growing up) wrapped around great references to second Christmases and the misuse of the term "white power."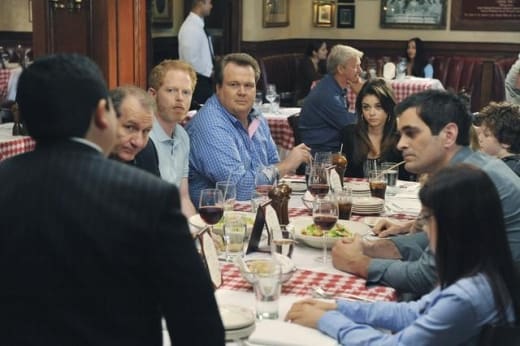 [Photo: ABC]
As you can likely tell, my favorite subplot from the episode centered around the Dunphys. I loved every aspect of Claire and Phil's race to the restaurant, from the latter's explanation to his children that they only need to be right once to show up their mother forever, to Claire's explanation of why there simply can't be two fun parents in one household:
You know that kid Liam who wears pajama pants to school and pays for things with a hundred-dollar bill? Two fun parents.
The Cam/Mitchell storyline dragged on as these two dealt with the old couple, but was paid off in full when Mitchell broke out into a mob flash dance. Did anyone see that coming?!?
Meanwhile, any regular reader of these reviews know that I can't get enough of Manny, as we were treated to his attempts to act as a kid for a few minutes this week. But, come on person on the other end of the phone, more butts? He doesn't have time for that kind of foolishness.
Great stuff all around - and a sampling of some of the best Modern Family quotes from the half hour below:
Luke: Dad's like crazy fun, but you're nice.
Claire: I'm nice?!?
Luke: Well, not now. | permalink
Haley: Dad, that was a stop sign.
Phil: I'll stop twice on the way back. | permalink
Manny: Look at Luke there, making one big straw out of three. Never change, Luke. | permalink
Jay [on Gloria]: You'd think growing up in a place full of death squads and drunken uncles, she'd have learned to move a little bit faster. | permalink
Phil: Just filling out the application to family camp. You don't win the 'Dirty Dancing' competition and not go back to defend your crown. | permalink
Cam: You cheated on me with choreography and that is the worst kind. | permalink
Manny: I really thought it was too late for me. But for the last few minutes, I've been watching all of you acting like children and it hit me. I've got plenty of time left to be a kid. | permalink
Matt Richenthal is the Editor in Chief of TV Fanatic. Follow him on Twitter and on Google+.