It's amazing that after seven-plus seasons as one of the most consistently compelling shows on TV, NCIS still finds another gear with certain story arcs, one of which began Tuesday.
When Ziva's father makes a surprise visit to the U.S., NCIS must ensure his protection. But in "Enemies Foreign," the adversary was formidable and the mystery deeper than usual.
Eli David (played incredibly by Michael Nouri) was riveting in every scene, but never more so than when reuniting with Ziva, the daughter he raised, only to abandon in the desert.
FAMILY REUNION: This one would be a psychologist's nightmare.
Ziva obviously resents her father and all he represents, and his steely justification for his actions hit like a ton of bricks: With the fate of Israel in his hands, he will not act on emotion.
Give Eli David credit for brevity, if nothing else. The man did not blow smoke in that situation. He may be heartless, but he is unapologetic, resolute and most of all, utterly fearless.
His reasoning for risking the U.S. trip sum him up best: "He is one, we are many. Our people are supposed to be better. If he can kill me, I don't think I would want to go on anyway."
While it's clear he is not her family now, and she has found home in NCIS the U.S. and a de facto father figure in Gibbs, Ziva's past isn't something she can lock up and bury forever.
An already impossibly complicated situation was magnified by the appearance of Malachi, but even more so by Liat Tuvia, the ruthless female Mossad agent trained to take her place.
Imagine coming face-to-face with a younger version of yourself, only you are the daughter he left to die. The emotional layers involved here are as compelling as they are complex.
Recognizing her extraordinary skill when she sees it, Ziva was impressed by the brash Liat (Sarai Givaty) and at the same time, understandably intimidated. How could she not be?
[FUN FACT: Givaty is the only actual Israeli in the cast. Cote de Pablo is Chilean, Michael Nouri American, T.J. Ramini (Malachi) English and Arnold Vosloo (Hadar) South African.]
The way the first half hour transpired, and particularly after the women's room incident with Liat, Ziva looked poised to shun Eli altogether, until a plea from Abby changed her mind.
In a season featuring three different relationships between fathers and sons (Gibbs and Tony being the others), orphaned Abby couldn't help but say her piece, and it was moving.
All of this perfectly-nuanced personal drama, combined with an unusually mysterious and high-stakes case, made for a tremendous episode that's only half over. Is it Tuesday yet?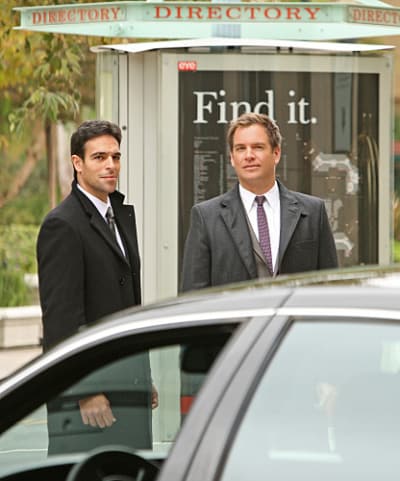 PROTECTION DETAIL: This wasn't your ordinary assignment.
Even with three Palestinian terrorists hunting him, the Mossad shot-caller was remarkably sanguine. Gibbs and Vance? Not so much. They knew Eli's life was in grave danger.
Not unlike the season premiere, Gibbs went fishing for the killers, strolling with Eli in plain sight. That netted two of the three, but the biggest fish had no intention of going quietly.
When the assassination attempt happened, first via stolen remote operated weapons and then by Al-Masri himself, it was jarring, even when you felt it was coming any moment.
Ziva proved she's her father's daughter with her lightning quick response to the attack, saving Eli and taking down the Palestinian assassin and his state-of-the-art killing machine.
Fleeing the firefight, the two directors and Eli's driver, Hadar, left in his car for a safe house. Minutes later, just before the dreaded TO BE CONTINUED, we see Hadar lying dead.
Eli David is nowhere in sight.
After our heart palpitations subsided, we were left wondering if there's a terrorist unaccounted for, or more than one, or a double agent at the conference, or all of the above.
There's also the question of what happened in Amsterdam with 27-year-old Vance that has the director so flustered and Eli speaking cryptically about the truth about to come out?
As Vance pointed out, Eli David could have appeared via satellite. Why take the risk? Was it solely for Ziva, or is this Amsterdam case far bigger than we could possibly know yet?
Vance has always been an intriguing character with a past and motives somewhat shrouded in mystery. Next week's "Enemies Domestic" will undoubtedly peel back some of that.
What did you think of last night's NCIS? Share your comments!
Steve Marsi is the Managing Editor of TV Fanatic. Follow him on Google+ or email him here.