We all wear masks. Everyone, everyday. Sometimes we wear them so much we forget who we really are. Sometimes, if we're lucky, someone comes along and shows us who we really want to be; who we should be. - Nikita
Unfortunately, "Phoenix" was not my favorite installment of Nikita, mostly to due its stalled forward movement.
I'm such a big fan of this show because it manages to take on a different case each episode, while still maintaining a storyline between Nikita/Michael (Mikita?) and Alex/Thom. This week, there was a tease of the bigger picture when the Ari the Russian offered Nikita protection and equipment, but she made it useless and unnecessary by turning it down. Unless Ari pops up again in the future, that is.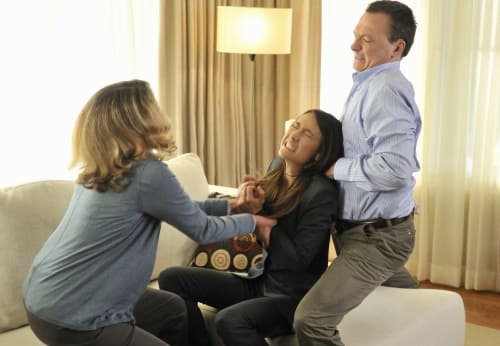 Another thing about this show that surprises me each week are Nikita's antics. She never fails to do something that makes you as impressed by her intelligence as her physical prowess. She covers all her bases, and always in some comical way. Poor Chip.
I'm bummed that the action between Alex and Thom was only a way for Alex to use the latter. The look on her face afterward did make me question if there were feelings, but for now I believe it to be just a diversion. Nikita trained her well. Well enough to take a broken wrist to get the antidote. What do you think of Thom as an agent? I'm not sure he can hack it.
You have to love Birkhoff and his one-liners. Even though he was only in one or two scenes this week, he managed to get his word in. I can't say I'm upset at the lack of Percy. I'm aware that viewers are supposed to hate Percy's character, but I do wish the writers would give him some interesting dialogue, or something to look forward to in his scenes.
Meanwhile... do I spy Mikita teaming up next week? Are you excited about that, TV Fanatics?