After a week's break, No Ordinary Family came back with guest star Jackson Rathbone on "No Ordinary Visitors."
The show also returned with great comedy, and finally some romantic writing. But, alas, not a shred of realism.
While this episode did give us some of the show's most comedic moments - for example, Katie explaining that her cat's name is Atom, like a scientific atom; and George trying to get down from the roof while not-so-silently cursing out Jim - it fell short of expectations.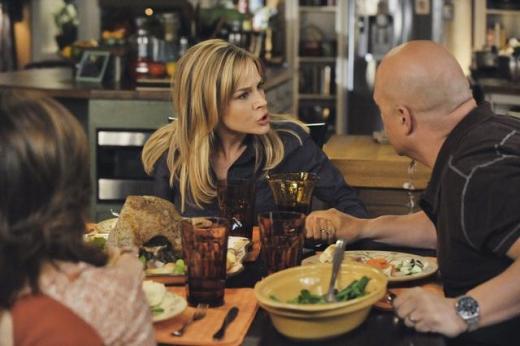 [Photo: ABC]
Daphne realizing that there is a visual aspect to her power was awesome, and an excellent way to keep viewers on their toes. We're aware the family has abilities, but now we can wonder if any of the other Powells have layered powers that we don't know about.
I do feel bad for Daphne, though. If they plan on bringing in a love interest for her - which they should since she is in high school - it's going to be pretty hard for her to touch him without seeing into his brain instead of looking into their eyes. Hopefully, we will see more detail on how this aspect of her power works.
Unfortunately, the ending felt forced. I'm sorry, but there's no way it would be all hugs and kisses after a very insulting few days. Stephanie's parents insulted Jim's lack of life skills, Stephanie's lack of parenting skills, accused Jim of cheating and living off of his wife's income.
I understand the parents were only there for one episode, so the "consequences," as Stephanie's father put it, couldn't pan out, but things went too smoothly at the end. For there to be no grudge held isn't very realistic.
Overall, this was an enjoyable episode, but not my favorite. Points that were accomplished:
The Powell family has decided to stop running from who they really are now: super humans.
Stephanie and Jim not only went through another episode without fighting, but we saw some great chemistry between Julie Benz and Michael Chiklis that was lacking in past episodes. 
Autumn Reeser is still adorable. There is a definite girl-crush going on here.
What did you think TV Fanatics? Do you think bringing in Rathbone was am effective way to get around an average episode?