When Royal Pains returns with new episodes on January 20, fans will be greeted by guest stars Amy Sedaris and Tom Cavanagh as a couple that takes part in a charity golf tournament alongside Jill.
But that's just the tip of the juicy, spoiler-iffic iceberg. What else can fans look forward to this season? Royal Pains cast members dished at a panel discussion inside The Paley Center this week...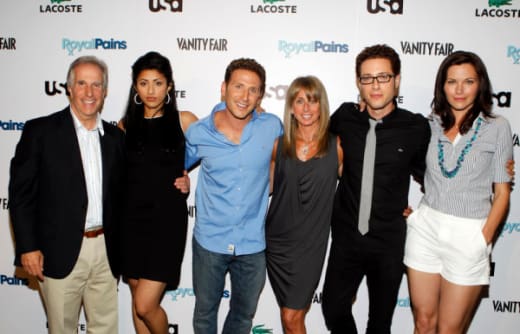 Back and forth between Jill and Hank. Jill Flint also says the odds of these two getting back together are high: "There will always be a spark between the two of them, and there is some movement towards them getting back together."
Will Adam return? Yes, says Reshma Shetty, adding: "That storyline is far from finished. He's into her and he doesn't give up so easily even when she tries to push him away."
What about Eddie Lawson?
Replies producer Andrew Lenchewski: "He's gonna bounce back. He's shacking up with New Parts Neuberg, which is quite comical, and because of his near-death experience he realizes how important his sons are to him, but he has a lot of making up to do and had to win back their trust."
As for Marissa's secret pregnancy... "Boris is a determined guy who knows how to get the information he needs," says Lenchewski. "You do not want to find yourself on the wrong end of a secret with Boris, especially not this secret. It's the kind of thing that even when the secret is exposed, there is still a lot of tension to be had from it. We feel heightened tension because the answer raises so many questions."
Viewers can also look forward to guest stars that will include Julianne Nicholson, Jim Gaffigan, Bob Gunton, Gilles Marini and John Legend.
Matt Richenthal is the Editor in Chief of TV Fanatic. Follow him on Twitter and on Google+.