The Amazing Race Review: "Ali Baba in a Suit"

Luke Dwyer at .
Sometimes truth is stranger than fiction.
Or, as I like to say, if the story was a movie, no one would believe it because it's so improbable.
Isn't that kind of the case with Chad and Stephanie getting engaged and winning the eighth leg of The Amazing Race on the same day?  If The Amazing Race was not a reality television show, we would roll our eyes and waive our hands because it was a lame ending.  But, this is reality television and despite some deserved skepticism about how "reality" these shows are sometimes, we're constantly reassured that nothing is manufactured.
Certainly the moment wasn't manufactured.  There's almost no way for the producers to get Jill and Thomas to illegally pay a cab to let them follow it to the Pit Stop.  However, I'm a bit skeptical about how the editing process went to where what we saw was perhaps more dramatic than what actually transpired.  I'll explain.
Last week, every time the racers were given specific instructions about walking vs. taking a taxi vs. not taking a taxi, we were shown a clip where the racers read that particular warning.  Thus, we knew ahead of time that even though Michael and Kevin beat Chad and Stephanie to the Pit Stop, they had two penalties to their one and would finish last.
This week, we were all shocked to learn that Jill and Thomas had violated a rule by paying a taxi.  Or, at least I was.  Maybe I missed the memo that there's a new rule on the race where you cannot pay a taxi to follow it to your destination?  Certainly we did not see a clip where Jill and Thomas read a specific instruction that indicated they could not pay a taxi.
If there was an instruction and Jill and Thomas (and everyone else, for that matter) read the instruction and the producers simply choose to not air it so that it made the ending more dramatic, I'm a bit disappointed.  However, my gut tells me that the you-can't-pay/follow-a-taxi rule is a new race-long rule that the racers were informed of prior to the start and Jill and Thomas just forgot.  We likely would have seen this type of an editing job with last week's episode vs. this week if that were the case.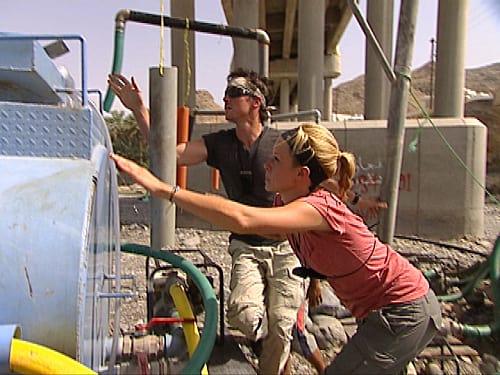 What were undoubtedly not manufactured this week were the great celebrations at the Pit Stop for almost every team (Jill and Thomas were understandably not enthusiastic about finishing second because of a dumb mistake).  How great were the reactions from Chad and Stephanie, Nick and Vicki and Brooke and Claire?
(Has there been a luckier stretch on The Amazing Race than the one Chad and Stephanie are currently experiencing?  Last week they escape elimination despite incurring a 30 minute penalty because Michael and Kevin incurred two 30 minute penalties.  This week they sleep through their start time, but dodge that bullet courtesy of a plane flight.  Finally, they go from second to first because of another 30 minute penalty, this time from Jill and Thomas.  They should stop at a casino if they get a chance.)
It is moments like these that are only created through the uncertainty of teams being more spread out than we typically see them on recent editions of The Amazing Race.  As I lamented a few weeks ago, when the teams are all bunched together, it may make the race for last slightly more interesting, but those 3rd and 4th place teams know they are not in last place and do not exhibit that massive sense of relief upon learning their fate.
This week, although we did not realize it throughout the leg, Nick and Vicki and Brooke and Claire clearly thought they were racing to not be in last place.  All they knew was that Jill and Thomas and Chad and Stephanie were ahead of them.  They had no idea how far back Nat and Kat and Gary and Mallory were.  This led to a great exchange between Phil and Nick upon learning they had finished a surprising third place.
Phil: Is that a huge relief?
Nick: You have no idea
The celebrations by Nick and Vicki and Chad and Stephanie were somehow topped by the over-the-top Brooke and Claire.  They clearly felt they were in last place and erupted into screams, jumps and hugs when Phil told them they were a surprising fourth. 
The bottom line is that I hope we see more uncertainty in the racers in the coming weeks leading to more dramatic moments like we witnessed this week.
More from this episode:
Ladies, help me out please, why are the racers putting on makeup before starting a leg?  What am I missing?  Who wants to be sprinting around and sweating while wearing makeup?  Brooke looked like a plastic doll at the start of the leg.
I'm not a big Chad fan, but I did like the story about the engagement ring he gave to Stephanie.  Very sweet.
Does anyone have more patience than Vicki?  She puts up with Nick's moodiness and nastiness far better than I imagine anyone else could.
I can't get enough of Brooke's spirit.  She's so positive and fun to root for, even though her voice is piercing.  I've overcome that because of how energetic she is.
My favorite moment of the season to date is the goat eating Nick and Vicki's clue at the Roadblock (pictured above).  Hilarious and Nick and Vicki didn't even care.  Nick was laughing.  Awesome stuff.