It's pretty much impossible to dislike any episode of any TV show that guest stars Michael J. Fox.
Aside from being a solid actor, and having anchored one of the most beloved film franchises in history, the celebrity's fight against Parkinson's Disease has been nothing short of incredible to watch.
For his appearance alone, "Poisoned Pill" was a winner. But the installment was especially unique, creative and interesting for actually giving Fox's character a neurological disorder and having him exploit that in court. I can't recall any scenario remotely similar to this on any other series.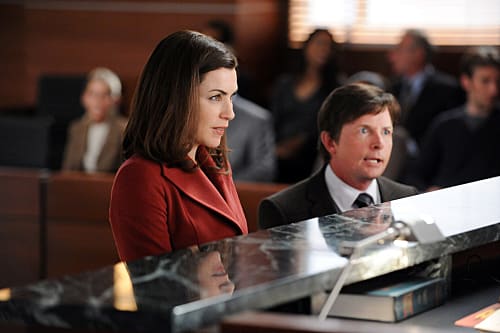 I enjoyed everything about the case of the week, from Fox's attorney, to the way the firm reacted by making medicine "sexy," to the ending that was both happy and sad: the financial windfall from the settlement has made the company solvent... but it could have apparently been so much more.
So, kudos to the plot A. As for plots B and C? I have complaints:
Kalinda worked great as a supporting character on season one. She was mysterious and tough and used sporadically, typically on the sidelines, doing investigative work; but occasionally in the spotlight, as viewers were left wandering about aspects of her character.
But now the show is playing up her mystery, relying on this as a major source of intrigue every week. I'll reserve judgment until we learn just what Kalinda is hiding, but it will be a major letdown if the big reveal is simply that she's a lesbian and keeps this quiet because flirting with men is beneficial in her line of work.
Conversely, it will feel unnecessarily dramatic and contrived if there really is some major piece of information missing about Kalinda. As Donna put it last night, can't self-preservation simply be her top objective? We don't need a juicy past associated with that.
I'm also unsure if I like that the show is making Blake out to be truly devious. He had connections to a meth gang back in the day and Bond bailed him out of jail?!? The Good Wife excels at painting grey characters and situations. Let's hope the result of this discovery isn't some black-and-white reveal that makes both Blake and Bond out to be excessively corrupt.
My second complaint was the lack of Chris Noth. At its core, I'd still like to think of this series as a family drama. I enjoy peeks into Peter's campaign, which we've gotten many more of this season - but I'd prefer if Peter was actually involved in said peeks.
I assume Noth was absent due to budgetary reasons (it's cheaper to not have every series regular appear in every episode), but then I would have preferred to see the election storyline also absent for a week. I love Eli, but I'm not invested enough in him to see him scheming without Peter around to react.
What did everyone else think of the episode?
Matt Richenthal is the Editor in Chief of TV Fanatic. Follow him on Twitter and on Google+.