My heart is still pounding from the final scene of "Red Moon." That's always the sign of a good episode.
With serial killers, possible wolves, the phases of the moon, wannabe psychics and Red John, this week's installment of The Mentalist kept me guessing until the end.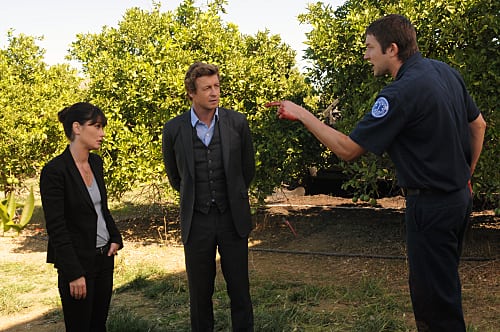 Jane's complete honesty with Lisbon about his motives for working with the CBI is refreshing. He's never lied to her. He wants his revenge against the man who murdered his wife and child and a judge and jury don't factor into that picture.
Lisbon may think she can control him or change his mind, but if she can't, she certainly can't say he didn't warn her.
I have to say the sleazy trucker who hit on Keeley was suitably pathetic and creepy. When Cho asks him what Keeley's response was when he asked her out, he responds, "I think she was intrigued." Uh, no. Somehow I don't think intrigued is the word Keeley would have used - but since she's dead, I guess we can't ask her to confirm that.
So now the CBI attic has an office chair, a makeshift table, a desk lamp and a cot with blankets and pillow. Jane is even taking people other than CBI agents up their for private chats. Are they charging him rent for that space?
I'm glad that Lisbon realized Jane was playing the wannabe psychic. She's worked with Jane long enough now to catch on to his games.
They certainly left Jane alone in the motel room with the serial killer for quite some time. I know Cho and Rigsby were right outside the door, but if he had had a gun instead of a knife, Jane could have been in real trouble.
The twist at the end was great. Todd taunting Jane was a given, but finding Todd on fire surprised me. Now is Lisbon right, did another cop do it to exact revenge for the murders? Could Todd have set himself on fire and could Red John have been involved somehow?
I could practically hear Jane's heart beating as he sat in the hospital chair, the words "tiger, tiger" echoing in his mind as Todd died in front of him. How far is Red John's reach and how far can he push Jane until he snaps?
C. Orlando is a TV Fanatic Staff Writer. Follow her on Twitter.