Bones Review: Brennan's Universe Turned Upside Down
Steve Marsi at .
The universe turned on its head on Bones this week, according to Brennan had her sage night watchman friend Micah. This concept was true from the viewer's perspective, too.
Bones, at its core, is a fun show. People are happy and familial at the Jeffersonian. One-liners abound. They spoof Jersey Shore and cast Wayne Knight as a chocolate company CEO.
Yet from the moment you saw Brennan alone in her apartment at the onset, you could sense this episode was going to be different. Her life as she knew it would cease to exist.
Or, to put it more accurately, would never feel the same again.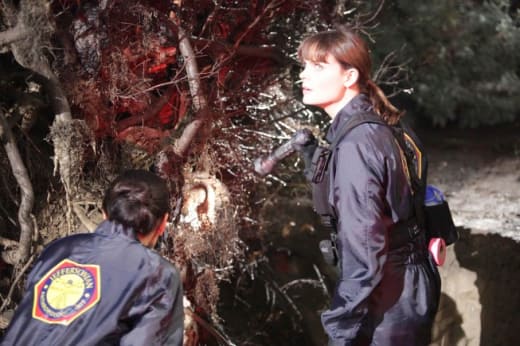 To say this case hit home for Brennan would be understating it.
What is it that Temperance wants out of life? The discovery of the slain doctor's remains in D.C. made her reexamine that question like never before over the course of the hour.
This case forced Brennan to reflect on her existence with some objectivity (which does exist, like it or not) and gave her some perspective. She didn't like what she saw, either.
The wonderful ensemble cast was relegated to the background - not an easy task to pull off - in an episode carried entirely by Brennan, and Emily Deschanel was outstanding.
What if "The Doctor in the Photo" really was Brennan?
That's what Brennan kept asking herself again and again as she dug deeper into the late doctor's life, seeing the victim as herself and even having conversations with her.
There were cinematic, almost supernatural elements in play, from those exchanges that weren't even real, to the photo that didn't really look like a Brennan doppelganger.
Booth's heroic rescue of Brennan on the street (filmed in black and white) and charming Micah's routine visits gave it the feel of A Christmas Carol or It's a Wonderful Life.
This is YOUR life, Temperance. Do you like what you see?
Dr. Eames missed her chance. Dr. Brennan isn't about to.
The doubly tragic part is that when Brennan finally breaks down and proclaims to Booth that she made a mistake, he replies matter-of-factly that he's with Hannah now.
She's not a consolation prize, Booth says, and he's in love with her. That may well be true, and it hurts Brennan, who we actually got to see cry as the words sank in.
Still, you have to wonder if this was their pivotal moment. Booth can't turn off his feelings for Hannah, but Brennan's revelation had to resonate with him. It had to.
The doctor's demise was revealed, but for Brennan personally, there was no real resolution. That chapter has yet to be written, but she needed this wake-up call.
This was a dark episode told in a way unlike any Bones has attempted before, but it was very well done. It gets better the more we think about and talk about it.
In short, a perfect place to pause and reflect until January.
What did you think of last night's Bones? Discuss!
Steve Marsi is the Managing Editor of TV Fanatic. Follow him on Google+ or email him here.