Following last season's shocking, emotional finale of Dexter, fans of this Showtime hit felt like they needed a few rounds of therapy. Will that be the case this Sunday night?
No, executive producer Sara Colleton tells E! News: "The finale is actually quite therapeutic. It's like therapy in and of itself."
That's a nice, vague tease. What else can this writer tells us about this week's concluding episode?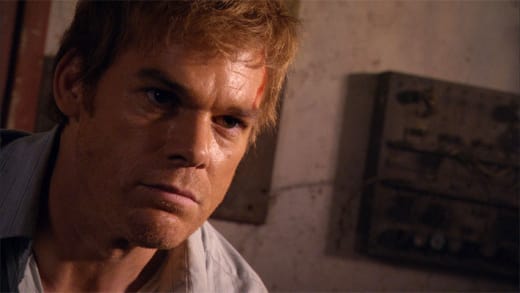 "This season Dexter's journey was atonement," says Colleton. "So the big question is, will he be at peace with himself? Is that possible? Is it possible he has found a soul mate? There are a lot of questions that have been raised by this year that are still coins still tossing and turning in the air and they all will come down Sunday night."
Of course, there's one question all fans have: Will Lumen stick around beyond this season?
"I can tell you that many different people's storylines are still up in the air," Colleton says. "Quinn has been a thorn in Dexter's side all season long. Will that blood stain on his shoe be discovered and think about it, who does the blood work for Miami PD? So there a lot of fates that are still possibilities."
Colleton also touched on a rumor starting to circulate: might Michael C. Hall actually appear on Glee? She'd be all for it.
"We wouldn't let him do it as Dexter Morgan but I would love to see him on there. He'd be a natural."
Matt Richenthal is the Editor in Chief of TV Fanatic. Follow him on Twitter and on Google+.