Melinda Clarke is a TV Fanatic favorite.
We loved her on The OC, we were excited to see her on The Vampire Diaries and we can't get enough of her on Nikita. In the following, exclusive interview, this actress dishes on the latter show, her overall CW experience - and kissing Ian Somerhalder...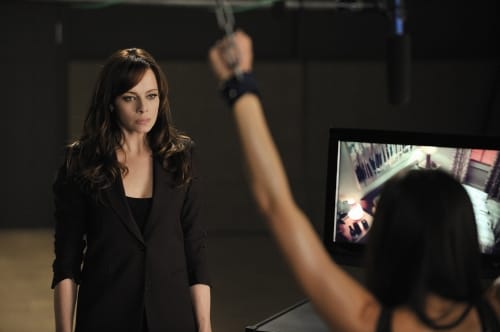 How did Amanda end up at Division?
We're only scratching the surface, especially with my character, who's been so enigmatic and mysterious and will remain so for a while. We'll have to wait for the flashback story on that one. I love that we're using flashbacks.
I always thought she was a combination of other characters I've played, but she really is in a completely different category. She's very strongly motivated in a deeply psychological way. I don't think she's motivated by power, or greed; I think those things might be part of it, but I think she's motivated in a psychopathic, psychotic, manor.
How Amanda become the interrogator? As soon as you hear her name, you know something bad is going to happen.
[Laughs] My character is really into manipulation, mind control, and brainwashing. She's gotten to a place where some of it is just a game. I'm sure she's had some kind of relationship with Percy in the past; I have all kinds of ideas. At this point in the show, she's a true villain.
I think one of the best scenes that expresses what Amanda is capable of is the scene with Alex in the straight jacket, and also the scene where we're torturing Alex with electro shock. Deep within, Amanda is a human being who has feelings, but she's such a master at locking all of that away and trying to impart what she knows to these girls.
Amanda has made it clear that she's certain Alex is keeping a secret from everyone. Will we see her try to get that out of her again?
I believe Amanda knows Alex fibbed about the doctor thing. In Division, Alex is dead for doing that, or the doctor goes. I thinks she wants to see what Alex is up to and what she's capable of. Maybe Amanda wants to see Alex succeed; maybe she knows she's the mole. I'm speculating here, I don't want to get in trouble for this [laughs].
Does Amanda have any sympathy at all for the girls that she teaches about beauty?
Absolutely. She's still human, but that doesn't put her beyond doing what needs to be done. I can't operate as a human being without playing a human being. I hate to sound vague and mysterious, but she is a vague and mysterious character. [Producer Craig Silverstein] told me that Amanda is essentially Dr. Melfi from The Sopranos meets Hannibal Lecter.
Anything is possible; she is a chameleon and a human lie detector. If Division burned down, she might just smile and laugh. I do think the one person who might be able to make Amanda tick is Nikita. Nikita is the one that got away. The flashback scene with her was a glimmer in Amanda's relationship with Nikita.
How is nobody finding out that Alex is connecting with Nikita via the computer?
I agree. That's the suspension of disbelief. Apparently, it's some kind of shell program. I will say this: I believe in the near future the audience will have an answer to that question. It will be addressed and everyone will be satisfied.
Are you booked for any future episodes for The Vampire Diaries?
I was campaigning for that at the beginning of the season; I thought I could go back and forth. It's up to the network, if they want to let an actor be in two shows for two hours in a row. Then it comes down to scheduling. I think if I got the chance to play Kelly Donovan again, I'd love for it to be an arc. It would be nice to have a really juicy story that continues. They did leave it open. I would be back in a second.
How was it working on that show? A lot of women are very envious of you getting to makeout with Ian.
Ian is a very attractive man [giggles]. And a sweetheart at that. I should be so lucky...  I'm sure he'll make his way through the whole cast at some point. It's fun television; I've become a true fan. I jumped out of my seat at the finale last season.