How I Met Your Mother Review: Check Yourself Before You Trebek Yourself!

Chris O'Hara at .
Christmas came early on How I Met Your Mother, or so I thought.
Then, we learned that Lily and Marshall's good news was a false positive. I guess there is a wrong way to pee on a stick, after all. There was no need to wipe the seat when it came to the overall episode, though. Hands down the best of the season.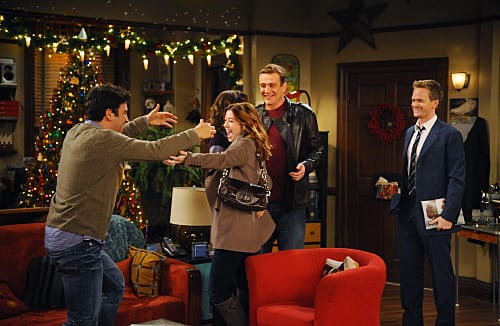 I gave it five stars only because I'm not allowed to give it six. It had me saying aloud It's a Wonderful Life.  Lily and Marshall humorously tugged at heart strings as only they can, Barney one-upped Oprah, Robin flipped my lid and Ted blew me away when he smashed his Christmas-themed movie snack and told off everyone.
It was, indeed, the strongest showing by Ted to date. His "check yourself before you Trebek yourself" line was legendary. Not sure how many viewers picked up on and or appreciated the "man and wife" part of his rant toward Lily and Marshall. 
He also slipped in a reference to the story of Mary and Joseph from the Bible, when he used the phrase "great with child." (Luke 2:5 "To be taxed with Mary his espoused wife, being great with child.") This might have had some viewers calling for separation of church and sitcom.
Politics and religion aside, from his opening scene where he discussed floral arrangements with Punchy, (Note the Times Square street sign featured in the background of Punchy's apartment, great follow through there) to the aforementioned thrashing he dished outside the movie theatre, Ted truly did crush it.
Million Dollar Heads or Tails was a treat as was the cameo by Alex Trebek. Loved the Vegas odds-maker line, as well, with the contestant nervously asking what year the coin was minted. Kudos to the great white North as Robin wowed fellow Canadian Trebek with her currency rotation skills and Alex made a nice shout out to Jeopardy when he phrased his answer in the form of a question.
Robin's ID badge photo was brutal, but whose isn't?  She should have kept the glasses on.  Thanks to her, another piece of the puzzle was revealed when she asked Ted to one day be her best man.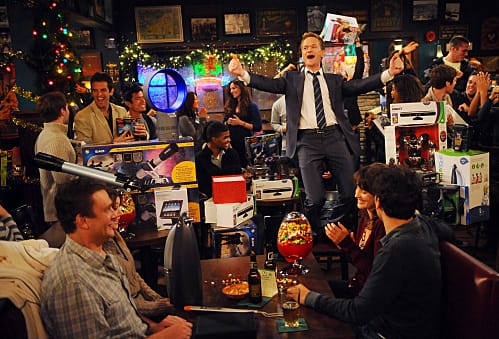 The crash course in baby preparation was arguably the greatest Lily and Marshall montage ever. I have felt that panic myself and stayed up until 3 a.m. the night before my daughter was born trying to read "What to Expect When You're Expecting" cover to cover. The baby proofing, the classical music, it was all just so spot on, as was Marshall's "liver lips" ode to The Jerky Boys.
Barney's performance was worthy of a holiday all its own. From the Dibiase, diamond pin striped suit to Barney's Favorite Things. He is a large reason why this episode will go down as one of my favorite things of 2010. Everyone gets a lap dance!
Barney showed his charitable side when he wheeled in the racks of suits to give away, but don't kid yourself.  You know he was also thinking "tax deduction, whaddup!" He continued his giving ways when he left us with "one to grow on" in the form of a public service announcement where he urged us all to bang someone in need this holiday season.
With enough Meister Brau and mistletoe it could happen.  Speaking of stocking stuffers, this episode was chock full in the form of HIMYM quotes. Enjoy them here and Happy Holidays to all and to all a good one night stand.
Ted: No! Unacceptable! You are going to turn around, you're going to go home, get naked, lay together as man and wife, until Lily is great with child! | permalink
Lily: There's an alien growing in my stomach that is going to explode out of my vagina! | permalink
Barney: I am Mr. Charity. I frequently sleep with sixes, chubsters, over thirty's. I am the Bill and Melinda Gates of the sympathy bang. | permalink
Barney: A Yuletide riddle. What is my second favorite word that begins with B-O-N?
Ted: Bon Jovi?
Barney: What is my third favorite that begins with B-O-N? Buzzer... BONUS! | permalink
Lily: I'm pregnant.
Barney: I've never seen that woman before in my life! Sorry force of habit, congratulations! | permalink
Robin: You're looking at the new coin flip bimbo, POW POW POW POW POW. | permalink
Barney: I'm taking the rest of my bonus to God's strip club. | permalink