Private Practice Review: "Just Lose It"
Steve Marsi at .
Like Grey's Anatomy before it, Private Practice closed out 2010 in dramatic fashion, setting up some story lines that will clearly have a major impact early next year.
"Just Lose It" marked the return of Naomi. She missed quite a lot ... most notably the fact that Addison wants to have her ex-husband's baby. Elephant? Meet room.
We also meet an addiction-riddled patient, Emily, who routinely shows up pregnant, and who is routinely paid CASH by Pete, Charlotte and Violet to give up the baby.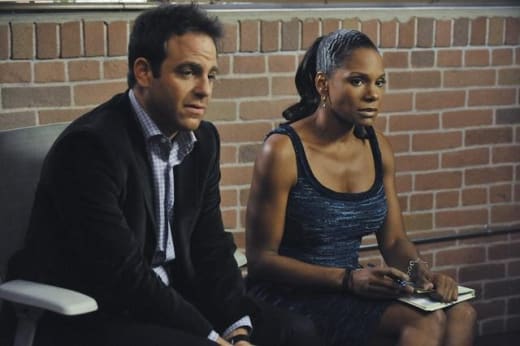 Naomi has a lot of catching up to do.
Emily says she's clean and wants to keep this one. Addison is willing to help her, but Pete tries to convince her to have her tubes tied during the c-section, infuriating Addison.
Addison delivers the child but no tubes are tied whatsoever. Sadly, she later has a change of heart when the almighty dollar seems to be Emily's prime/only motivation in life.
In the end, the one who ends up giving this loser a grand to relinquish her parental rights is the one who had advocated for her. Talk about a lose-lose situation for everyone.
Unlawful? Check. Unethical? Check. The only feasible option anyway? You tell us.
This story line clearly ties in with Addison's own desire for a child. She tells Sam Emily's baby could be THEIR baby. Social services has already found parents for her, but still.
Ultimately, Sam doesn't want to decide about the baby situation based on Addison's biological urges, which is obviously smart. He wants her to believe in him, and she does.
Think Sam and Addy make it happen by the end of the season? Will it drive Naomi out of town for good? The potential certainly exists for a number of intriguing plot twists.
Turning our attention to Charlotte, Cooper is livid when the D.A. will not file charges against her attacker. She puts on a good front, but behind that calmness is anything but.
Cooper knows it, too, and his confrontation about it leads to pain.
Is the woman Cooper fell in love with really gone for good?
In an emotional scene that's hard to stomach, he calls her out over all her cliches and her faux sanguine attitude. She promptly bawls, and we're on the cusp of doing the same.
It gets worse later when Charlotte admits to Naomi that she's afraid Cooper is going to leave her. He never actually will (at least in our opinion) but that's where her mind's at.
Maybe there is some reason to worry. What was with that pass he made at Amelia? We know you're vulnerable, but come on Coop! Get it together, man! Are you kidding?!
He makes his way to Sheldon's office where he says the Charlotte he fell in love with is gone. He is there for her, but he's there for a person who, to him, doesn't exist. Ouch.
Coop also treats a patient in this episode who eats too much ... because he didn't want to be touched anymore. That's not a reason you hear for obesity too frequently, is it?
Even compared to other typically hard to watch Private Practice medical and family story lines, this one us upsetting. Cooper thinks so too, pounding on the patient's father.
More shockingly than that, he had the wrong guy. It wasn't even a guy ... his mom was the culprit. What a messed up situation, but at least it's over for that poor young guy.
As rough as this week was on Cooper, Addison may have him beat when we return in 2011. A call from her mom makes Addison literally spring up out of bed. What now?!
A charted plane lands, Bizzy steps out and we see her longtime lover being taken off the plane in a wheelchair. Whatever happened to her, it's dire. Until next year ...
What did you think of last night's Private Practice? Comment below!
Steve Marsi is the Managing Editor of TV Fanatic. Follow him on Google+ or email him here.