Psych delivered not one, but TWO all new episodes of the show this week, giving fans twice the reasons to laugh.
First up, we were treated to "The Polarizing Express," the first Christmas episode the show has tackled since its third season. It gave us an in-depth take on what life would be like in Santa Barbara if Shawn hadn't returned five years ago.
We enjoyed a look into Shawn's active imagination and found our beloved characters doing some pretty interesting things, if not shocking, things.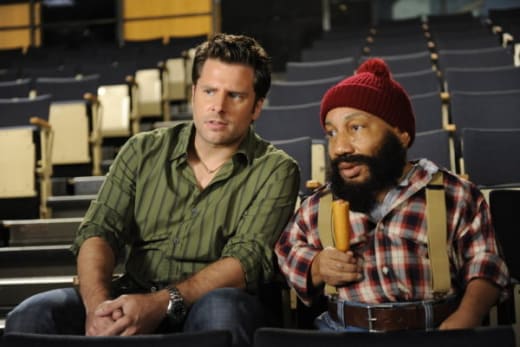 Henry was a disheveled mess who didn't clean dishes and smelled "like Bigfoot." Gus was married to Keisha Knight-Pulliam. Lassiter was the Chief of the police department/ Buzz was a detective and the real Chief was... well... I'm not really sure what she was, but Carlton sure was getting handsy.
Juliet, on the other hand, was nowhere to be found, as Shawn was indirectly responsible for her transfer to Santa Barbara after he outed Carlton's relationship with his former partner, (remember the series premiere?). She was still in Miami, working the dangerous streets as a cop, frustrated by her inability to take her career to the next level.
While I enjoyed the play on It's a Wonderful Life, I wasn't getting what, exactly, Shawn's lesson was out of all of it. The dream was a product of Shawn's imagination, not reality, so he made it so that everyone was better off with him there. The real changes he exhibited later were nothing more than his attempts to try and reconcile the major fall-out this inappropriate search had caused.
I would have liked to have seen Juliet and Shawn have their first fight as a result of this; the real opportunity the show had to expose the lasting impact that Shawn's antics could have on the department was sorely missed.
Despite my desire for more angst, I did appreciate that there was a team aspect in that Lassiter accepted Shawn's apology and they got right into solving the case as a team. It's another in a long line of team moments that have occurred this season, which will be key in the upcoming season finale.
I was also a big fan of the storyline that stemmed out of Shawn's mess, which was the introduction of Juan, a victimized shop owner seeking revenge on Czarsky. It was really neat how they had that whole "I will testify" moment where everybody rallied together, led by Shawn, to testify against Czarsky without fear.
It was kind of an unexpected thing, which made the ending that much more interesting and fun. Who doesn't love to see Shawn, on the hood of a car, giving a big speech that redeems him in one glorious swoop?
I would also like to thank Curt Smith for the wonderful musical contribution he made to the episode. I would like to have him come back as a character sometime in the future... at Shawn and Juliet's wedding perhaps?
Fun continued on "Dead Bear Walking" with a shout-out to the viewers who always wanted a bear to be the culprit. Hardcore fans remember the various times throughout the series when Gus has suggested the possibility of this being so, a result of his unexplained fear of them.
The case, however, seemed to take a backseat to the first appearance of Lauren Lassiter (or Lulu, as her big brother Carlton likes to call her). Not only was she very pretty, but very "normal," as Shawn put it. I was surprised that they would give Lassiter a sister out of thin air, but it seemed somewhat of a developmental episode for Carlton, in that Shawn yielded a prime glory moment in order for Carlton to shine, much to his sister's pride.
It seemed the more time Carlton spent on camera, the goofier he became in an attempt to be impressive, only to redeem himself in that single moment.
I would like to draw special attention to the various moments when Juliet found herself in the presence of a camera. Every time she attempted to act normal it only forced her to act more awkwardly and it had me laughing absolutely every time. It's truly a gift when you can be an actress playing someone who can't act normally around cameras.
The self-conscious nature of it all was so unlike Juliet. I especially loved the end montage of Lauren's documentary where we see her interviews with Shawn, Gus , Lassiter and Juliet. It was a nice break from the normal shooting style of the show, demonstrating that Psych not only has range, but continues to execute it in a way that keeps it interesting.
Plus, Juliet couldn't seem to control herself, the red recording light a source of distraction.
I loved how Gus made so many obvious plays at Lauren, even in front of Carlton. It was creepy and hilarious. My favorite part was that even after all those advances,  the moment Lauren acted interested, all Gus could see was Carlton and freaked out. It almost made me a little sad, making me realize that I have an unacknowledged desire to see Gus happy with someone.
He needs a steady girlfriend who will be an integral part of Gus's work with Shawn at the police station. Otherwise, I think it would be hard for her character to really add anything to the show because so much of it revolves around what happens surrounding cases. That's kind of a big hurdle to overcome at the moment, so I guess we will just have to wait and see what the writers have in store for us!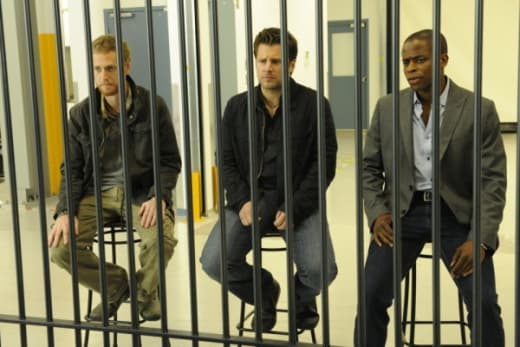 I will say that I wish we could get more family stuff. I'm loving that over the last few seasons we've been introduced to siblings. But can we get them to make repeat appearances? From Uncle Jack to Ewan to Commander Dunlap, there are some serious family dynamics that it would be fun to explore and Psych, with the way its going, seems to have many seasons ahead of it to accomplish this in some form.
Overall, we got a lot of good things out of these two episodes. We got a look into Shawn's imagination, two very different plots and cases, each giving us little character moments that we can look back on and smile about.
As for next week: We've waited an entire season for the third and final installment of the Yin/Yang trilogy, in which the identity of Yin will finally revealed. That's not even the half of it! Mena Suvari guest stars as Yin's latest victim, and Ally Sheedy reprises her role as Mr. Yang. Did I mention that Cybil Shepard and Jimmi Simpson are back for more, as well?
What did you think of tonight's episodes? Would you like to see Lauren Lassiter make a repeat appearance? Are you excited for the big reveal of Yin's identity next week? Is it possible Psych could leave us with a killer cliffhanger that won't get resolved until June 2011?
C. Charles is a TV Fanatic Staff Writer. Follow her on Twitter.