The Good Wife gave fans an early Christmas present this week: one of the best episodes in the show's history, if not on television this year in general.
Everything about "Nine Hours" spoke to what makes this drama so compelling, from small character developments, to cultural references to its ability to immediately draw viewers in with a suspenseful case.
Indeed, before the opening credits even rolled, I was hooked on the race against time to save that death row inmate's life. I was also craving french toast.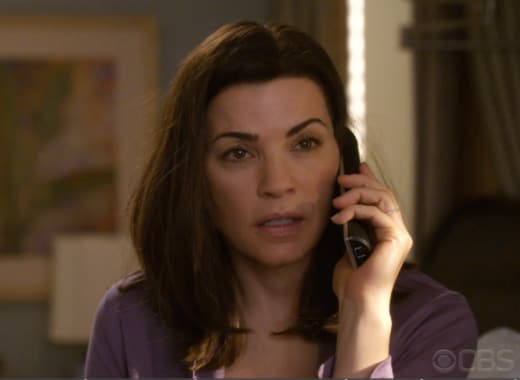 What made the installment so impressive was how it juggled so many people, in so many locales, at such a rapid-fire pace. I certainly can't recall any other series basing an hour around so many phone calls, but each felt more tense than the previous one.
While most of "Nine Hours" was dedicated to the firm's pressing legal case, the episode still touched on a couple of personal issues.
Alicia mentioned to Will that it would be nice to chat at some point (after the episode kicked off with her dreaming of the two of them doing everything except chatting), Grace embraced prayer, Peter cursed off a reporter and Zach ogled Kalinda.
We even got a Barry Scheck cameo and an instance of racial profiling during an airport screening. Regarding the latter, it's incredible how this show stays current on real-life events and finds a way to sneak them into various episodes without it ever feeling contrived.
We also learned a bit more about Kalinda's background and what Blake is up to. This storyline is the only one I don't care about on the show. It feels a bit too over-the-top, compared to other, more subtle, ongoing developments.
Overall, however, the episode was nearly perfect. It was suspenseful and interesting, without ever feeling preachy, an impressive accomplishment for a case based around the death penalty. Juliana Marguiles also delivered one of her best scenes to date in her closing phone call with the clerk, going from hesitant, unsure second-year to emotional, head-strong lawyer in a matter of seconds. Just great stuff all around.
What did everyone else think?
Matt Richenthal is the Editor in Chief of TV Fanatic. Follow him on Twitter and on Google+.