The Office continued its stellar season this week with an episode devoted to the brilliance of Michael Scott. 
On most occasions, I'd be referring to Michael's ability to make me laugh, but "China" actually gave us insight into how Michael's intelligence can turn the wheels of the Dunder Mifflin crew.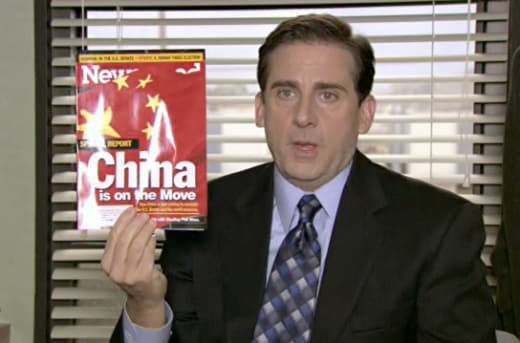 While reading a single fact about China in a magazine, and reporting it correctly to the office, doesn't make you a genius, Michael did make Oscar look dumb in the process.
As a result, the rest of the Dunder Mifflin guys got behind their boss this week. If my favorite thing for Jim to do is prank Dwight, my second favorite is when he backs Michael.
In this case, Michael had a whole crew of employees helping him out. Even though much of their input was useless, like Andy's temporary pep talk from
Rocky II
, it's always nice to see the Dunder Mifflin gang supporting their boss.
While this A story was filled with plenty of laughs, highlighted by Erin's rant about taking out life insurance on a guy before killing him and Michael's subsequent "I don't know what the f*ck that was," Dwight's B story was absolutely murderous.
Sometimes the Dwight story can be too far out there, but this week it was all gold. Between him wanting to go to actual war with the employees at Dunder Mifflin, making Pam call through Nate to talk to him, claiming people only need soap if they're bad at going to the bathroom and the entire exchange with the other Pam on the street, Dwight was on his game.
I'm usually one to hate on Pam, but I couldn't help but root for her this time around.  Maybe it's because she spent less time complaining about everything, and actually tried to solve the problem.  Or maybe it's because Jim was too busy helping Michael be smart.  Jim and Pam together have become pretty insufferable, so allowing Pam to do her own thing might keep her a little more interesting.
Finally, I enjoyed the smaller C plot this week, too.  Andy is great in small doses.  I enjoy watching him light up with excitement at certain things, but if he were texting me about it every five minutes, I'd probably get upset as well.  The crazy pigeon action was definitely worth a text for Darryl, and it was worth it for me to see that high five.
As always, let's wrap things up with the best Office quotes from the episode:
Dwight: We have a colleague with the same name. You're not a liar too are you.
Other Pam: I've been known to bend the truth.
Dwight: Damn it Pam! Get out! | permalink
Pam: You've been watering down the soap?
Dwight: Why do you even need soap? Are you that bad at going to the bathroom? | permalink
Pam: So everyone here knows pirate code?
Creed: I understand it, I can't speak it. | permalink
Pam: There's a dry cleaner, nail place, and a gym. Oh and it's next door to an Outback so it always smells like steak. | permalink
Pam: Does anyone want to know where I've been for the past two hours?
Jim: Oh my God. I've been play zombie soccer for the past two hours? | permalink
Erin: What if we all get together and help each other and hire a new guy, and then we all kill him, but first we take out like a hundred thousand dollar life insurance policy? I bet you guys like that idea, don't you?...I think that's what they're doing to me. I can't prove it but I wanted to see their faces when I said it. I learned nothing.
Michael: I don't know what the f*ck that w | permalink
Dan Forcella is a TV Fanatic Staff Writer. Follow him on Twitter.