Spike Mendelsohn has a few things to say before he steps away from the spotlight.
The Top Chef All-Star, who was eliminated from the show this week, told TV Guide that Jaime "not a team player," an opinion likely shared by many viewers after she refused to serve her dish on Wednesday's tennis-themed challenge.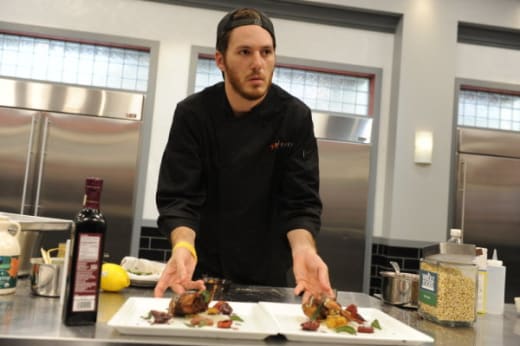 Read on for a few more excerpts from Mendelsohn's interview.
On his failed dish: I slow-poached shrimp in olive oil, which I've never done before, and left them out. Then, last minute, I'm poaching shrimp a lot quicker and you can't do that. I was just a little bit off that day and I ended up with tasteless shrimp.
On the judges not tasting all the dishes
: I think that goes under the category of Top Chef: All-Stars trying to make things a lot more difficult. You have to have more strategy involved. I did recognize that. We made a pact that if we had a really, really bad dish, that dish would go first, and Jamie's was the worst... What are you supposed to do? Put the girl in a headlock and drag her to the judges' table?
On letting Angelo and Tiffani modify his dish: It's not like I was letting them. It's not like I'm going to start hitting people with tennis rackets or sautee pans on national television.
On his title: I am the craftiest motherf-cker and Anthony Bourdain's unborn child or long-lost son, as he put it. I'll take that title over the winner of Top Chef: All-Stars! [Laughs]
Matt Richenthal is the Editor in Chief of TV Fanatic. Follow him on Twitter and on Google+.