Will they or won't they? When will they?
It's hard to watch Bones and not wonder about the status of Booth and Brennan pretty much constantly. Will the second half of this season finally unite them for good?
According to creator Hart Hanson (via TV Line), in April, the two Bs are "trapped in an elevator together. It's one of those things where they're forced to be together."
"They have to figure some things out. It's a pivotal moment."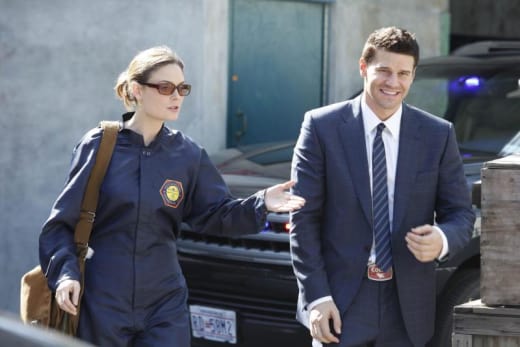 B-SQUARED: Will they be together, or are such teasers too good to be true?
If Booth and Brennan do get together, that would mean Hannah being dispatched in one way or another. Michaela Conlin (Angela) hits at that particular development:
"We have a big discussion about her," Conlin reveals of her character and Emily Deschanel's Brennan. "One word: juicy. It's a very juicy conversation. Spoiler alert!"
Bones returns January 20. Theories and comments on the above items, as well as the rumor going around about the two proposals to come this spring, are welcomed.
Steve Marsi is the Managing Editor of TV Fanatic. Follow him on Google+ or email him here.