It's not Rose. And, sorry Delena lovers, it won't be Elena. But Damon Salvatore is getting a new girlfriend on The Vampire Diaries.
None other than Ian Somerhalder himself confirmed the spoiler this week, Tweeting the following photo of himself, Matthew Davis and guest star Dawn Olivieri, who will play reporter Andie Star. Take note of the caption: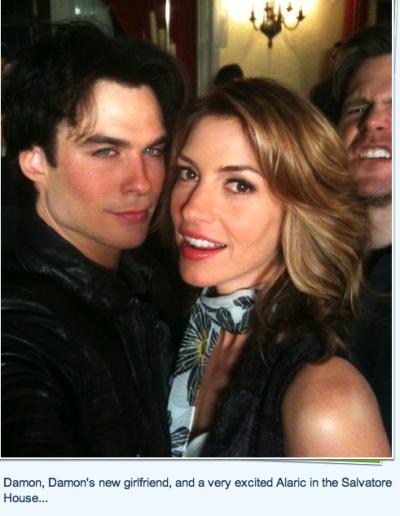 Confirming that Damon will feast on this character the same way he drank from Caroline last season, Somerhalder told Zap2It:
"Damon's kind of proud of [the name]. There's a line where Alaric comes to the Salvatore house, and Andie's sort of leaving after the walk of shame, and she's obviously got a little scarf around her neck because Damon's been munching on her. Alaric is sort of blown away, and Damon goes, 'Andie Star, Action News.'"
Somerhalder refers to Andie as Damon's "beard" because the vampire will compel the journalist to act as his girlfriend in order to help him fit in around town.
But just because the relationship is phony doesn't mean Damon won't open up to Andie.
"It's this girl and Damon taking a bubble bath together, drinking wine by candlelight," Somerhalder teases of an upcoming scene. "Damon has this sort of, not cathartic breakdown, but he says to her the way he's feeling. It's kind of tragic that the only way he can express himself to anyone is if he puts them under his compulsion, where they're actually his sort of droids, if you will."
We know of a few TV Fanatic readers that wouldn't mind being Damon's droids, right, ladies?
Matt Richenthal is the Editor in Chief of TV Fanatic. Follow him on Twitter and on Google+.