On this week's Jersey Shore, Sammi stunningly became a bit of an outcast after the fight from last week - which picked up right where we left off, and was totally epic.
"It's Gonna Be An Interesting Summer" revolved around the tension between Ronnie and Sammi and the rest of the house, with some lighter moments here and there.
For instance, Snooki found out she could fit into a suitcase. And fell off of a hammock. And booted the ball off the roof during kickball. And hid in a bush. Ah, Snooki.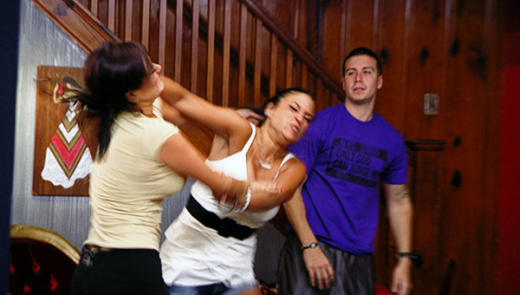 This is better than any Celebrity Boxing... it basically IS Celebrity Boxing.
Everyone went out to a club for the first time ALL SUMMER, except Ronnie and Sammi of course. Vinny got stalked by some Stage 5 clinger, which was creepy and fun.
JWoww was wasted, called home and remembered only then that she completely forgot it was her anniversary with boyfriend Tom. No wonder he's suing her right now.
Vinny brought a girl home and naturally, The Situation thought she was for him.
More of our rundown, plus Jersey Shore quotes from last night, after the jump:
Dude has a tendency to try and swoop in on Vinny's girls. Fortunately for all involved, Vinny and the girl went into the guest room and locked the door on Sitch. Phew.
Ronnie and Sammi woke up and went to church without telling anybody. People were pissed because the rest of the gang was making and bonding over Sunday dinner.
Later, Sammi basically said she could care less. Then she made it quite clear she does not want to be around them. Then she got into a fight with Ronnie again too.
The topic was everything that happened in Miami. Because ... there is a lot of unresolved tension from that? If she were pissed, why not dump him ages ago? Sigh.
Anyway, good times. Some of the night's best lines from Jersey Shore ...
Ronnie: Enough with the family sh!t, Mike! | permalink
Vinny: Oh my God. This girl at the club is beyond the word stalker. She is a parasite and I am the host. | permalink
Vinny: It's T-shirt time, it's T-shirt time, yo everybody, it's T-shirt time. I made a rap, it's hard being this cool, you know? | permalink
Vinny: I got juice all over me!
Pauly D: That's what she said. | permalink
Situation: If anyone can help these two crazy individuals, it'd be Sitch ... and I tried, but it backfired. | permalink
Sammi: It's like me against the three f*%kin' trash bags in the house. | permalink
Snooki: Honestly, like who hides in a bush? Only me. I will pee in a bush, I will poop in a bush, I will hide in a bush. I do f*%ked up sh!t, I don't even know what's wrong with me. | permalink
Snooki: This is the first night we're going out to a club. F*%king Rom & Sam are coming out. Shocker. Shocker. So what are they gonna do? They're gonna look at each others eyes and say "I love you, baby," all night? We're in f*%king Seaside, bitch - let's go to f*%king Karma. | permalink
Steve Marsi is the Managing Editor of TV Fanatic. Follow him on Google+ or email him here.