Oh, Patrick. Now you're on a Home Shopping Network? And you're selling your championship boxing gloves?!? If that doesn't express that this man has money troubles, I don't know what does.
This said, I wouldn't mind purchasing one of those bobbleheads.
Unfortunately, "The Shot" didn't reveal who killed the baker, although it's probably safe to assume Hal Brennan had his hand in there somewhere. Instead, the title referred to Pops' new protégé, Omar, and his attempt at a boxing title.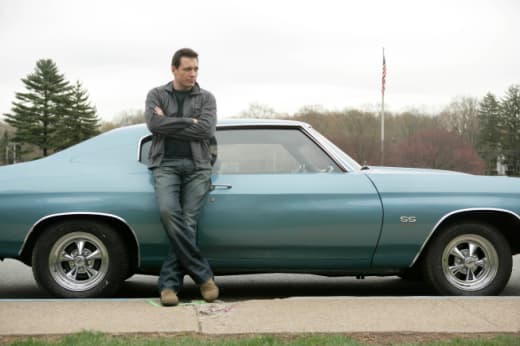 Omar, the Armenian Avenger, is certainly a punk. His ego and cocky attitude in the ring are enough to give anyone a headache. Even his entourage is just as obnoxious with its theme songs and focus on his appearance, rather than his ability.
Yet, he's the new breed of fighter and Pops and Johnny are confident in his success. And they have to be, because if he fails, they might not be able to keep the gym open.
Unlike Patrick, Johnny never appears conflicted or morally uncomfortable in his quest for success. He knows that Omar is using meth to lose weight and he's sleeping with Barry K. Word's secretary in order to meet the famous promoter. He's even on his knees begging to do anything to get Omar a spot in the championship fight.
Of course, what Barry makes Johnny do isn't clear in this episode. I'd like to think Barry wants Patrick to commit to the rematch fight and not that Johnny was forced to engage in some sexual favors. Hey, there seems to be that type of trend when it comes to Johnny.
Patrick's role felt rather passive for a majority of the episode. However, his conversation with Omar in the dark was probably the best thing Omar could hear. It grounded him and illustrated a need to focus on the basics of boxing. Ignore the fancy cars, the smiling friends, the flashing lights, and pay attention to the guy trying to knock you out. It was one of Patrick's better, most authentic feeling speeches.
It definitely snapped some sense into the brash Omar and finally gave Patrick something to do that didn't involve roughing people up for money. Plus, Patrick actually seemed to enjoy training the fighter, even if he wasn't the one getting in the ring himself.
Of course, as much as Patrick is drawn to boxing, his family is still most important. He'd rather spend his birthday with them and enjoy a quiet evening in. The scrapbook was a great present that brought everyone together to go over Patrick's life and special moments. Leave it to Daniela to come up with a gift involving memories.
In the end, though, as much as Patrick cares for his family, his world has truly focused on his boxing career. Watching the Omar fight made me, and I'm sure Patrick, wish Lights was the one in the ring.
Let's face it: I care about Patrick and his chances at a comeback. As much as Omar is an interesting character, I'd rather see Patrick step up and fight. I understand the slow set up of the show, but I'm prepared for Patrick to engage in some real action. Plus, is it really possible that his wife still has no idea about their finances?
Another good episode in the books. But I'm getting antsy, looking to see multiple storylines emerge and progress towards some dramatic conflicts for Patrick and the crew.  How about you?
Sean McKenna was a TV Fanatic Staff Writer. He retired in May of 2017. Follow him on Twitter.