During a conference call with reporters this week, Royal Pains star Mark Feuerstein was asked if he could reveal anything about the upcoming season two finale.
And reveal some things he did! I was on the call with the excitable, friendly actor and it was a challenge to keep up with his lengthy reply to this key question. But I tried...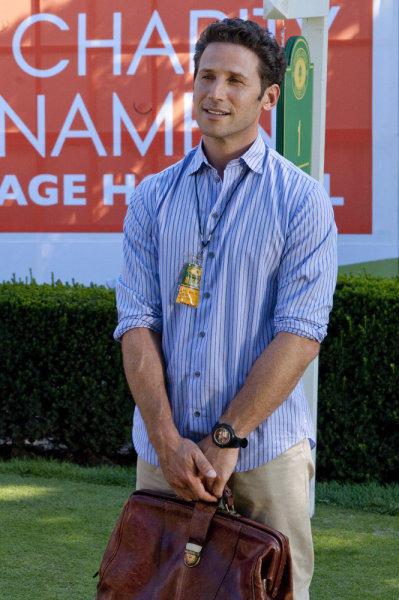 First of all, we have the issue of whether our father will survive his heart attack.  And then if he does survive his heart attack, what will happen given the fact that Boris has outed him as being an informant to the FBI.  And, if he is an informant to the FBI, to save his own ass, vis-à-vis the law, what will happen with his legal troubles?  Will he be going to jail?  And, if he's going to jail, will that be with us in his corner, Evan and me, or not?
Will we write him off as just a user and the deadbeat that we always knew he was?
Then, of course, there's something all of our viewers are dying to know, will Divya and Raj tie the knot?  That's another thread that we will answer.
And then, lastly, I, Hank Lawson, am a part of a love triangle between Jill Casey, played by Jill Flint and Emily Peck, played by Anastasia Griffith and there's a moment - I think I'm giving away a little too much, but I love the moment so much I can't help myself - where I walk in on Jill Casey and Emily Peck in bed together.  That's all I'll say, but suffice to say it was a wonderful moment for not just an actor like me, but a guy like me.
It was a pleasure to chat with Feuerstein. This is a man who clearly loves his job.
Matt Richenthal is the Editor in Chief of TV Fanatic. Follow him on Twitter and on Google+.