On Pretty Little Liars, A knows a secret about Hanna. And she's gonna keep it... as long as her old friend continues to follow orders.
Last week, this involved downing an assortment of cupcakes in exchange for a few hundred dollars of her mom's stolen cash. What will A force Hanna to do next?
"Something really horrible against her will," Benson teases in an interview with TV Guide. "She's helping her mom out and doesn't want to lose the house, so [she's] doing things she absolutely does not want to do but has no choice."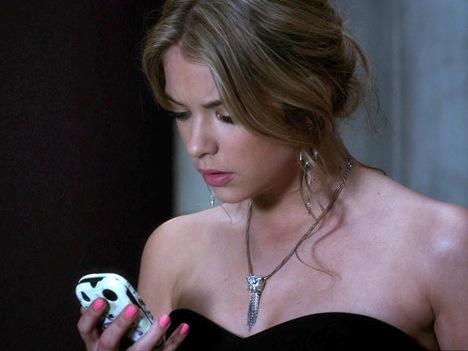 Over the next few weeks, Benson says viewers should also prepare for a riff between Hanna, Emily, Spencer and Aria.
"These next couple episodes for Hanna really test her friendship with the girls - especially one of them, in particular. [Hanna is] the one who's changed the most so far out of all the girls going from the popular, stuck-up, snobby girl to the down-to-earth girl... This whole thing with 'A' is making that all go the other way."
Matt Richenthal is the Editor in Chief of TV Fanatic. Follow him on Twitter and on Google+.