Royal Pains Review: "Mulligan"
at . Comments
I am thrilled to report that my favorite brotherly duo is back!
Royal Pains started just where it left off this week: with Eddie having a heart attack.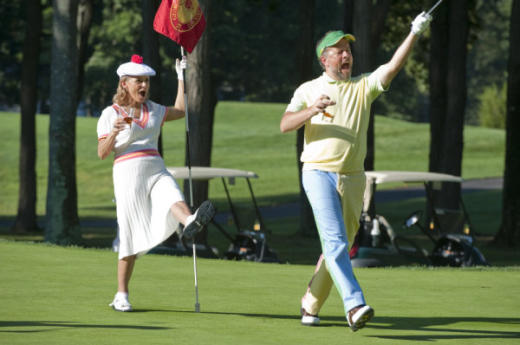 Interestingly enough, we gained insight into what is going on in this man's brain. In his unconscious state, he's at the beach with his boys enjoying life. They are young again and they need him, but Eddie can't save them. This scene showed us exactly how Eddie feels about being their father.
The title for this installment couldn't be more perfect: "Mulligan" means a second chance in golf, and the term applied greatly to everyone throughout the episode.
Each character needed some sort of mulligan throughout the night.
The most obvious of them all, of course, would be Eddie, given that he had a heart attack and almost died. He realized the error of his ways and wanted, even more than his freedom, to make it up to his sons. That is why he stayed and, perhaps, that is why he didn't die.
Could there be a mulligan in store for Hank and Jill? I loved how Jill admitted while on drugs that she missed Hank and then, later on, him reciprocating this feeling. Really, they should just get it on already!
Evan gets a second chance in believing in his father. He lost faith in Eddie when he did some snooping around, but gained it back after meeting with Eddie's defense attorney. Clearly, Evan wants to believe that Eddie is back for them and, from the looks of it, there's no reason not to believe in Eddie.
Boris only played a small role in helping Evan come to terms with the man Eddie is. Hopefully next week, we will get to see more of Boris and Marissa. 
How can I forget to mention the intense kissing scene between Divya and Adam? Tonight's episode showed us that Divya decided this kiss was a mistake. From what I gather, she desperately wanted a second chance with Raj, but do you think he will give it to her? Doubtful. My best guess is Adam will not be out of the picture for too long. Another plus? He's local! Divya wouldn't have to leave the Hamptons. I am very much on Team Adam, aren't you?
There really wasn't much of a storyline for either Marissa and Emily this week. But I am sure that both ladies will play crucial roles wrapping up season two - especially since Marissa is carrying Boris' child.
Overall, Royal Pains kept my attention and even had me laughing a bit with Evan's yacht getup. What did you think of the winter premiere? Until we meet again, here are a few of my favorite Royal Pains quotes from tonight's episode:
Evan: (about naming his boat) What do you think about Fairway to Evan? | permalink
Hank: We're good friends...
Jill: We used to be more than that Hanky Panky. | permalink
Divya: (to Adam) When we kissed...I felt nothing except regret. I'm sorry. | permalink
Jack: (about Jill) Competitive, beautiful, buys me breakfast...I like this girl! | permalink
Jack: Jack and Jill? Whoever's doing the pairing has a sophisticated sense of humor. | permalink
Eddie: It changed me kiddos. I am a new man. From now on I am telling the truth. | permalink