The Bachelor Review: "Who Has Cheated?"
Steve Marsi at .
The Bachelor season is really getting intense, or so the cue cards Brad Womack reads indicate. Tonight, our favorite corporate drone cut his field of ladies down to 11.
Maybe we're being unfair to Brad. He seems like a nice enough fella. But it's difficult to take him seriously when he talks about things like going on Dr. Drew's show.
He tries to act as if he had even heard of this guy three hours earlier, and the whole "I'm a changed man you can trust" bit is wearing thin after his 4,391st plea.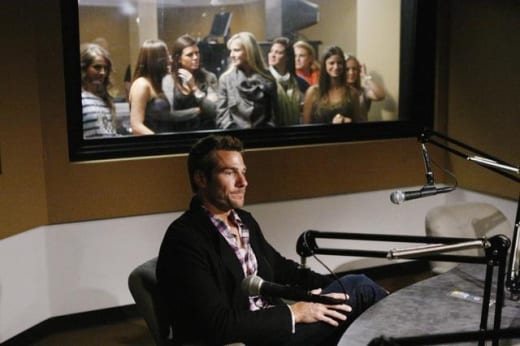 Brad wants everyone - he means everyone - to know that he is there for the right reasons. Never in his life - not a single time - has he cheated on a woman. Never!
Who has cheated? Anyone? Show of hands? Awkward.
At one point, in a scene straight out of Bachelor Pad (no, seriously, I think they did this on Bachelor Pad), they have him kiss all nine girls, blindfolded, one at a time.
If you're afraid of catching a cold, or of bad TV, this scene was likely repugnant for you. No wonder Ashley the dentist is feeling jealous and resentful of the others ...
At the post-date pool party, girlfriend gets hammered and starts upsetting people with her antics and comments. There's a lot of drama as a result, but she stays.
At the rose ceremony, that is. Britt got the rose on this date. As for Brad's two one-on-one dates Monday, a couple of the better-known contestants did the honors.
Chantal O'Brien, one of his likely finalists according to The Bachelor spoilers we've read thus far, flies with Brad via helicopter out to Catalina Island. So gorgeous.
The scenery isn't bad either. Is this thing on?
You can't help but like Chantal a little. She may rub the girls the wrong way, but she wears her heart on her sleeve and calls it like it is. Not always the case here.
She gets a rose, but in a bit of trickery, they stay overnight there, likely to make the other girls think that perhaps the date didn't go well and she was sent home.
Nice one, Chris and Mike. Well played.
Next up is the hilariously-named, somewhat-unhinged Michelle Money. Then comes the annual, ridiculous rappel-down-the-skyscraper bit. They make out en route.
Michelle also reveals a black eye from bumping into something ... or something. We can see her giving it to herself to get attention, but maybe that's a stretch.
Farewell, Stacey Queripel, Meghan Merritt and Lindsey Hill.
All in all, it's hard to get completely invested in Brad, who seems just too media trained, but he does seem decent, and some of his suitors are growing on us.
Until next week ...
Steve Marsi is the Managing Editor of TV Fanatic. Follow him on Google+ or email him here.