This was really an ensemble episode. Each character played to their strengths on "The Love Car Displacement," as the gang took a trip to a science symposium where all but Penny, obviously, was serving on a panel.  How could anything but hilarity not ensue?
Note to the writers: this is exactly the right level at which Sheldon should always function. He was still at his superior, anal-retentive best, but mostly restrained, which was a welcome change. I like him most when he's operating at more of a dull roar than a full-on thunderous boom.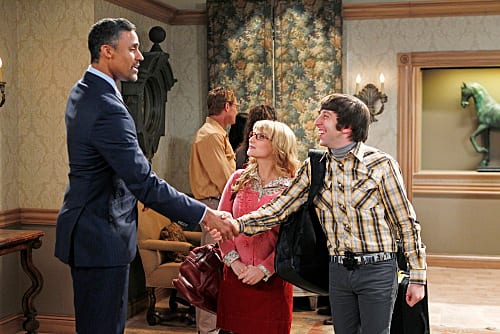 Read our collection of The Big Bang Theory quotes from this week now!
Even Amy Farrah-Fowler was used to just the right extent, particularly in her scenes with Penny.  It's highly amusing to hear Amy broach sexual topics with a naively inquisitive curiosity bubbling right under the surface of her stoic composure, whereas Sheldon typically has no interest in conversing on the subject in any shape or form.  For two people so much alike, that is one area where they differ greatly.
The brilliance of the show, as I've said before, is when Penny and Sheldon interact, but it's even striking a chord each time Penny and Amy are thrown together, such as tonight when Amy latched onto Penny as her "bestie."  Kaley Cuoco is a very gifted comedienne, and her reactions to the nuttiness of the supposedly genius minds around her are always my favorite parts of every episode. 
The game of revolving bunkmates felt a little borrowed, yet still yielded a few laughs.  Most importantly, though, it provided Leonard and Penny with a chance to almost reunite - or so Leonard thought.  I have a feeling this was merely a momentary lapse and won't lead to anything in the near future, most likely not even being referenced again.
Howard's feelings of inadequacy were to be expected after learning Bernadette once dated a guy who looks an awful lot like Rick Fox, and I felt myself yawning through most of that part, until it brought about the funniest segment of the night with the euphemism-laden exchanges at the panel.  Raj and Amy's retorts to the increasingly awkward expressions by Howard and Bernie had me rolling. 
Sheldon's confusion over what they were actually talking about was hilarious. Jim Parson's facial expressions alone are enough to warrant additional Emmy-love.
Back to Raj for a moment.  It's been three years. Any reason why he can't start talking in front of the ladies without the need for alcohol yet?  Sure, sometimes it's still funny, but that gag is starting to show some wear.
Other moments that stood out:
Sheldon using Star Wars call signs over the walkies.
Amy citing constipation as the reason she makes the perfect travel roommate.
Raj whispering something in Howard's ear about this Kegel exercises.
Raj texting Leonard in the other car to call Bernadette to tell her Howard uses nap as a euphemism for sex.
Howard and Bernadette's "I Got You Babe" duet prompting Penny to apologize to Sheldon over the walkie.
Amy eliciting Penny's thoughts on "penis envy."
Amy establishing boundaries with Penny by preemptively asking her not to touch her breasts.
Raj grabbing tissues, getting in bed, and then sobbing at Bridget Jones' Diary.
Jeffrey Kirkpatrick is a TV Fanatic Staff Writer. Follow him on Twitter.