The Real Housewives of Beverly Hills Season Finale: "You Stole my F-ckin house!"
Kelly Lynch at .
WOW. Real Housewives of Beverly Hills viewers knew Kim and Kyle had family issues, but did anyone realized how deep-rooted those issues actually were? After the season finale, we do now.
Let's take a look at all that went down:
It was painful for everyone involved to watch Camille kiss Kelsey's ass, as she finally opened up about how much he sucks during a heart-to-heart with one of her very few female friends. Crazy Camille may have a "Jesus complex," but she's just as human as the rest of us (Thank God. The jury was out for a bit).
Lisa finally addressed the Serafina Showdown with Taylor. Did Taylor say something to Camille in private before dinner to get her so worked up AGAIN?  Nay, said Taylor.  From there, things went south because Taylor took this as a sign to confront an unstable Kim about what happened in New York. As Lisa said: "I don't give a flying fig what Kim said to Taylor."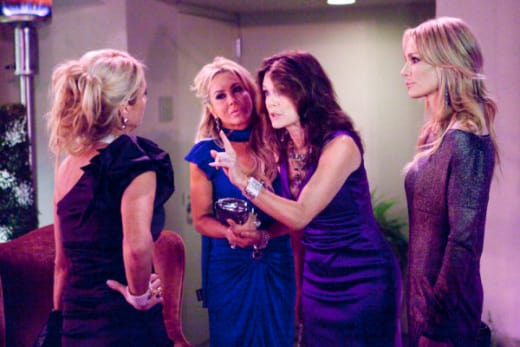 Kim came undone at the Cristophe salon in Beverly Hills. As the makeup artist attempted to show her how to apply eyeshadow, Kim struggled to dab.  Her reasoning?  Because she didn't have to put on a face for friends or school.  Kyle did, but Kim didn't.  Hmmm, alright.
Lisa told Cedric he had to move out. I realize that Cedric has abandonment issues, but he's 37 and needs to get a grip.  Lisa's not leaving him; he just needs to put on his big boy pants and grow up.
Camille had to show ID to prove who she was at Kelsey's apartment. That's reason enough to demand $50 million from that a$$hole.  
After the worst speech in the world ever by Russell, Taylor decided to unleash her marital frustration on Kim. Things escalated between Taylor and Kim, as Kyle heard her name and shimmied over in a too-tight bandage dress (really, Kyle?  You're pretty and have a great body, but it's time to dress your age). 
Once Kim was told to remain in the limo, Adrienne and Kyle swooped in to make things worse. So much was aired between the Richards sisters that shouldn't have been caught on camera.  Kim's possible battle with alcohol, the fact that Mauricio and Kyle support her financially.  How about when Kim blurted out, "You stole my f-ckin house!"  I have no clue what that means, but it all just blew up. 
For more on this meltdown, as well as the finale's epilogue and tease for next week's reunion special, check out my full review at The Hollywood Gossip!