"It's High Time" covered the sublime and the ridiculous.
Sublime because we got to finally witness stoned-out Ivy having fun; ridiculous because the rest of the episode was exactly that. Not only did Dixon, Liam and Navid drag Teddy to a gay club (called Mandate, no less!), but we discovered that Emily had her own dressing room (!?!); Naomi was rebuffed by a nerd; Adrianna's reality pilot was described as "The Hills meet the Kardashians"; and Annie appeared to have been broken.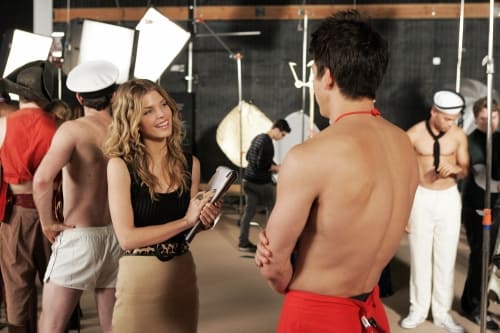 Maybe Teddy would have been better off without Navid, Liam and Dixon as friends if he'd known they were going to act like fools at a gay club in which he wasn't even comfortable. 
Mandate looked like a cool spot, but definitely not for a bunch of uptight high school kids. How did they even get in? Teddy may look like the 30-year-old, but what about the others? The exchange between Liam and Teddy rang true enough and it was about as honest an exchange as those two have ever had. Boys night out indeed!
Emily continued her psychotic trampling of Annie's life. I don't necessarily care for Annie much. I find her to be whiny, annoying and altogether useless.  But that was before this scrawny SWF came on the scene. Now, all I want is for Annie to serve her a proper beatdown. 
Annie managed to wail on her for a moment, but that got her promptly suspended. Annie looked like the one with the mental issues. Can you blame her (and me) for wanting to pulverize Emily? Making herself out to be Annie's victim; turning Naomi, Silver and Adrianna against Annie; trashing her own dressing room and getting Annie fired from the playhouse; seducing Liam; getting everyone to side with her and make Annie out to be the loon. 
Emily certainly lived up to her promised Oscar performance.
Navid finally caved into signing the release for Adrianna's cheesy reality show, but only after Silver offered that as a deterrent to Adrianna finding out about their canoodling. Does it even matter, though? Since when is Adrianna Polly Pureheart? She's been known to do a few underhanded things in her time. She's more concerned with fame and fortune than in doing the right thing. Maybe finding out Silver is the "cheating whore" with the funky earrings will serve her right.
Naomi appeared to have gotten her comeuppance at the hands of Max. Who knew a nerd would be the one man who would get Naomi all hot and bothered and ultimately reject her? Having set up a West Bev hot guy calendar shoot in the hopes of scoring brownie points for CU admission, Naomi lost it when one of the lunkheads she hired to model spilled oil all over her computer. 
Fearing she'd lost all her hard work, Max came to the rescue. Thinking a hot kiss would make him go gaga, Naomi was shocked when Max said she wasn't his type. Yeah, okay. That was as believable as Naomi actually getting into college.
What was believable was seeing Ivy finally cutting loose with a big old bag of weed. Whether it was watching cartoons high as a kite or carousing with her new ganja buddy, Raj, Ivy reached new heights. That can happen when you're watching 747s zoom over your head. It's sort of fun to see some kind of personality emerging out of Ivy. Mom may have put the kibosh on her getting her groove on at home, but taking her advice of going to a therapist served Ivy well. Medical marijuana? Clever girl.
Anyone else got the munchies?