I had the pleasure of listening to a long interview with Sam Witwer a week ago, and I have been trying to break down the 53-page transcript into something that will bring life to his incredible personality. One thing he touched on was Aidan's relationship with Rebecca.
Someone went so far as to compare them to Sid and Nancy in the way they bring out the worst of their addiction in each other. Now, I have to assume that since Sam is filming the show, he knows more about the makeup of these two, but I still don't see it in any way other than she is a bad seed trying to get on the good side of Bishop by bringing Aidan back to the family.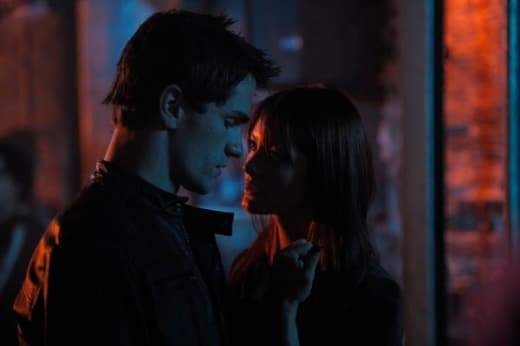 Does anyone see anything more of this relationship? Do you see a good side in Rebecca that I cannot, even given the interview information I listened to (and promise to share with you shortly) I cannot see her being redeemed. Aidan feels guilty for killing her, but Bishop made her, so she's stuck doing his bidding but wanting Aidan.
I just don't know. None of it feels genuine to me.
I was really confused as to whether or not the scene when Sally invited Danny over to have Aidan take him apart was real. A part of me really thought it was true. THAT would have taken the show in a completely different way than the UK version, of course.
She is in need of vengeance and I want her to have it. Bridget is still with him, and I don't think Sally is thinking about what kind of situation this might bring to her friend.
Danny's first instinct is to blame Bridget, and I'm sure the way he grabbed her wrist left her with a nasty bruise looking suspiciously like four fingertips. One can only hope she sees it as a sign that he may be a little off. Wouldn't all of these things start to add up? She brought the ring back to the house saying she thought it belonged there. Maybe that is the first glimmer of insight into Danny's true character. Seeing the bruise put some fear into Sally and the potential downside of her actions with Danny are having on Bridget.
Emily moving into the house certainly gives it a more normal, human feel. Josh seems more comfortable with her this time around and I think family is good for him. She sure isn't afraid to drown her sorrow in alcohol, is she? Even watching her do that many shots made my tummy start to tumble.
Sam finally had a round about way to ask Nora whether she eats, and that ended with a date. He even used the torch for the creme brûlée that I noted in the quotes. Josh is making the best inroad to date at being human.
So Josh can enjoy himself with Nora, the rest of the group goes clubbing. Sally meets a ghost at a bar who has spent the last 20 years trying to be a poltergeist and make him think horrible things, like see worms in his drink or think his teeth are falling out. It would seem a bit fun to do that to someone who wronged you, and not really that horrible in the wake of other things you could do to someone. A little harmless mind frakking, if you will.
Rebecca shows up at the club, on the arm of Marcus. Again, even when she's telling Aidan she's stuck between the person who killed her and the person who made her, I think she's lying. While Rebecca keeps Aidan occupied, Marcus follows Emily outside the club and that's the last we see of her.
She shows up later at the house as Josh and Nora are ending their date, and she's been beaten. I can only hope that Marcus didn't turn her into a vampire. I'm still not sure how that works. When Aidan arrived home and smelled the blood, he took off for the hospital in the wake of the others. It was the first time we saw him run at vampire super speed, so that was interesting.
Honestly, it was a dull episode. The highlight of the night was watching Josh (Sam Huntington) kiss Nora. Looks like that boy can kiss. Lucky, lucky wife he has. Next week's episode looks to be a little humorous as they take Emily home and everyone gets to meet Josh's parents. It certainly can't be any worse than this week, which felt like filler in what has so far been a fairly entertaining season.
What did you think of this week's Being Human? Discuss!
Carissa Pavlica is the managing editor and a staff writer for TV Fanatic. Follow her on Twitter.