Brothers & Sisters Review: Dragging Estrogen Out of Dudes
Steve Marsi at .
Valentine's Day. What's the point? - Nora
With these words on her radio show, Nora seconded the sentiments of tens of millions of men. But, as on last night's Brothers & Sisters, we eventually cave under the pressure.
As much as February 14 stinks, or Nora would like to believe it does, she doesn't really buy it. Nor does Sarah. She wants Nora to come back to traditional Nora-Land here.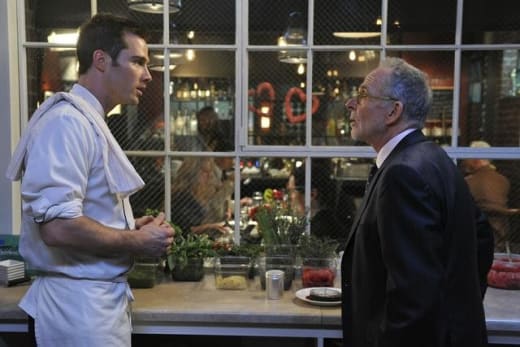 The bulk of "The One That Got Away" was devoted to Rose trying to learn about Brody, while Tommy wants to leave well enough alone, and on Saul's complicated romantic life.
A chance that Sarah's real dad is out there - yes, they're really going back to the biological family mystery well - is more than enough to pique the interest of Rose. And Nora.
During an argument over his negotiations to buy a company without telling her, Sarah learns about Rose's suspicions. Upset as she is, she realizes Rose may be onto something:
The original copy of her birth certificate is missing William's John Hancock.
Her siblings feel she's making mountains out of mole hills here, but Sarah doesn't agree. She gets Nora to admit she slept with Brody one time, but she also had a paternity test.
That test, Nora insists, proved William was in fact the father of Sarah.
Sarah isn't sure if she should believe that, but at least she has Luc. Even if she acts like Luc does not exist half the time. Her only support system has become an afterthought.
Despite shunning his V-day plans, which included having Justin help set up a romantic, makeshift dinner, she promises to do better going forward. We can only hope she will.
Rose apologizes to Nora for causing such chaos, and the matriarch isn't quite over it. But she tells her possible future daughter-in-law the elaborate secret to family survival:
Wine. Any fan of the show could have seen that one coming!
Elsewhere, who knew Saul's live life would get so complicated?! Specifically, who knew when we met food critic Edward LeMonde, more than a review would be on the line.
After some jealousy and allergy issues, Saul and Jonathan make up and admit, aloud, that they are interested in each other. That feat alone is major progress for the two.
As we conclude the episode, Nora strikes a more upbeat tone on her show, and we see Kevin and Scotty celebrating with a little Valentine's Day of their own. Very sweet.
Lest we think Sarah's reason for concern is over, however, we see her waiting outside an office. An office occupied by a man named Brody. Until next week ...
Steve Marsi is the Managing Editor of TV Fanatic. Follow him on Google+ or email him here.