After weeks of doing anything but, how appropriate that the gang began the episode not knowing what to do next and only reluctantly conceded to study? Thankfully, Dean Pelton offered up a fresh adventure to uphold the levels of ridiculousness to which we have become accustomed, during "Political Developments and Uncivil Disobedience."
There were a number of high points, starting with Abed's notching of "Classic Wingers" into the study desk, with Jeff similarly notching "ab mentions" and Troy tracking only notches, but when the gang entered the political realm, that's when it really started to "Pop Pop."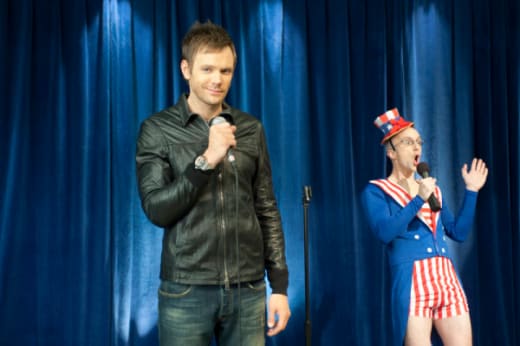 I found the descriptions of the candidates highly entertaining, specifically references such as Annie's ethnicity being "Hot" and that, yes, she has boobs, Jeff "Hot Wings" Winger's kryptonite being women's tears and Pierce's Favorite Roman Emperor Caligula and the trivia fact that he once followed BNL for a summer.
Abed and Troy are hilarious when they are hosting their own talk show, but especially so as political correspondents for Greendale College TV who don't know anything about margins for error or polling in general.
It was not really all that surprising that Jeff would attempt to thwart Annie's candidacy by stepping in to show her how ridiculous politics really is, especially after her snipe at him about not being a lawyer, or that Annie resorted to brass tactics and a smear campaign buoyed by the riotous airing of a 19-year old Jeff Winger riffing George Michael's "Faith" in an effort to get cast on The Real World.  
In fact, the interplay between Jeff and Annie was so fervid, I thought Troy was speaking to the wrong couple when he told Abed and the Secret Service agent to "get a room."
Abed serving as the Secret Service agent's target of racial profiling/object of affection was amusing as well, especially when she was disappointed she didn't actually have anything to hold against him. Abed, the sharp tack that he is though, let a little napalm recipe slip during his campaign coverage, just so that the agent would have a reason to return for an "observation date."
I'm getting used to Pierce being so nasty, I suppose, as I thought his harassing of the poor girl in the yellow sweater was funny. Does that make me a horrible person too? Does the fact that I relished even more his comeuppance in the form of a pencil stab to the face let me off the hook?
The only negative I have for the episode is the same negative I've had almost all season. I'm this close to scratching my vocal cords with a fork so I can actually sound like a broken record. It's awfully sad when Magnitude, a peripheral character only recently introduced, gets more screen time than poor neglected series regular, Shirley.
Sure, Britta had very little to do either, but she has had plenty to showcase over the last few weeks. There has been so little Shirley this season, I am really beginning to believe there is a conspiracy going on. 
Jeffrey Kirkpatrick is a TV Fanatic Staff Writer. Follow him on Twitter.