Hey, did you know what over 400 people die per year from alcohol poisoning? And drunk driving is really bad?
If you weren't aware of these facts, Glee made it a mission to drive the points home on "Blame It on the Alcohol." Fortunately, there were enough fun songs and scenes thrown in so that the episode didn't feel too preachy - but I still wish all shows involving teenagers would ban drinking-related storylines forever.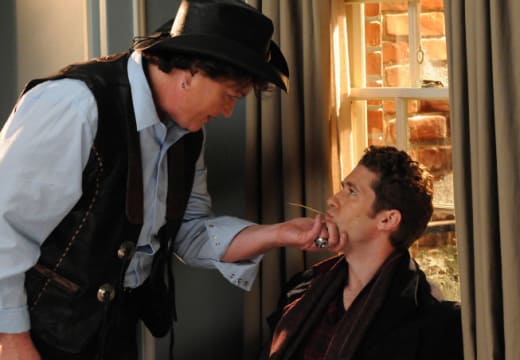 There's no way for a series to not come across like a Public Service Announcement when the topic is alcohol. This can be especially grating because alcoholism is a serious disease.
It's silly, and almost insulting, to suddenly pretend like Will has such a severe problem that he has to actually give up imbibing simply because he left one drunken message. Moreover, high school students will party and drink and vomit and repeat the process for as long as there is liquor and empty basements. They shouldn't get behind the wheel after doing so and they should be careful sexually and... yada, yada, yada. We've all heard these messages a thousand times before.
I'm not downgrading their importance. I'm just wishing they weren't the central plot of a show I watch for entertainment.
As I said, however, "Blame It on the Alcohol," did couch its PSA-like series of developments in enjoyable outfits (what were Kurt and Rachel wearing to the party?!?) and catchy performances (so nice to see the show go western for a change!). It's hard to take too much of an exception to an episode that gives us Beiste in a cowboy hat.
Just one more complaint, though: no way Finn knows the word "archetypes."
Now, on to the other major storyline of the hour: Blaine, Kurt, Rachel and the drunken kiss heard 'round the world. Or at least within the halls of William McKinley High School. I wasn't really sure what to make of all this.
I was on Kurt's side in his initial argument with Blaine. Yes, a friend should be understanding, but Blaine absolutely billed himself as a confident, out, proud, sure homosexual. Of course it was jarring for Kurt to learn that his role model in this area doubted his sexuality.
But then Kurt got on my nerves when arguing with his father. Didn't Burt say he'd also object to Finn having a girl sleep in his bed? Wasn't he instituting the same rules for both gay and straight? Kurt left the conversation by telling his dad to "educate" himself so Kurt could go to him with problems, just like a straight person would.
What does that even mean? Was Kurt asking his father to read up on various sex acts? And why did Burt ramble on about Brokeback Mountain? It's inappropriate for any 16-year old, male or female, gay or straight, to have a sleepover. Case closed. That's all that happened here. Why did Glee try to make it about something more?
As for Blaine questioning his sexuality, I can't pretend to be an expert in this area. I'll let others debate whether or not a young gay person might really wonder about such a thing following a drunken kiss, only to be assured of the opposite when kissing a girl sober. At least this resulted in a humorous reaction from Rachel.
And at least Gwyneth Paltrow is returning in two weeks! Hooray! Overall, this was a strange episode of Glee, one that clearly tried to send along a pair of messages, but one that got too tangled up in various viewpoints to make either one clear or sensible. What did everyone else think?
Matt Richenthal is the Editor in Chief of TV Fanatic. Follow him on Twitter and on Google+.