Lots of Grey's Anatomy items to discuss this morning, thanks to some interesting quotes from cast members and the boss lady herself. Let's get down to business:
In response to Meredith's looming health problems in "Not Responsible," Patrick Dempsey told TV Guide that "Meredith has a little bit of an issue because the [fertility] meds are a bit too strong for her, but she's going to be fine, she's not going blind - she needs to see."
Dempsey also summarizes the rest of the season with a laugh: "It's a melodrama - [Meredith and Derek] do the best that they can, and they cry and they fight."
As for Mark and Lexie ...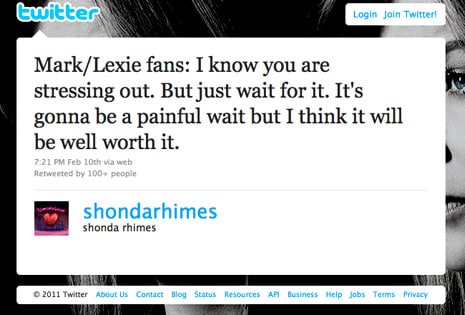 How do you feel about that, Mark and Lexie fans? "A painful wait but I think it will be well worth it" is an uplifting assessment, even if the payoff is a ways off, right?
Regarding the musical episode, rumored to be the result of a Callie hallucination, Jesse Williams (Avery) says it's "not a musical by any other terms we've seen before."
Jesse tells TV Guide: "It's nuts! I can't compare it to anything else. We've had insane rehearsals. The talent is so amazing on our show: Chandra Wilson, Sara Ramirez."
Dempsey also notes that "I don't sing... Sara Ramirez has got a great voice. Kevin McKidd's got a great voice. They're really carrying that episode, and I think they do a phenomenal job. Eric Dane is like Robert Goulet - really funny, really great voice."
"There are a lot of good, talented triple-threats on the show."
Steve Marsi is the Managing Editor of TV Fanatic. Follow him on Google+ or email him here.