This week on NCIS, the team investigated the case of a dead Marine whose wife became the prime suspect, but whose killer turned out to be someone else entirely.
Elsewhere, McGee hilariously had his identity stolen.
As far as the murder mystery, "Freedom" was fairly boilerplate stuff, lacking a bit of the urgency and some of the lightning-quick twists we've grown accustomed to.
By accustomed, we mean spoiled of course. As they say (or at least I do), an average episode of NCIS is still better than a good installment of almost anything else.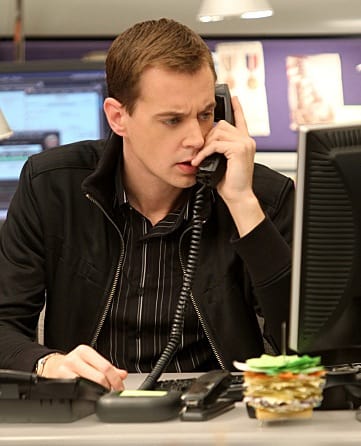 BLOWING UP: McGee's secondary storyline made this episode.
The dead Marine's wife was not only a Marine herself, but a better one than he. Georgia Wooten excelled, earning promotions and training in martial arts, while he was average.
Her unemotional reaction to his death, coupled with a shady non-alibi and apparent disguising of domestic abuse she suffered at Travis' hands, made her an easy mark for Gibbs.
You kept feeling there would be an unexpected turn, however, and there was. Yet it felt a little too obvious by the time it was revealed. Who else could it have been? Just one guy.
With the mistress ruled out and the wife a sympathetic figure, that left bar owner Len (Melrose Place's Thomas Calabro), who had feelings for Georgia and wanted to protect her.
The murder weapon was a pool cue, as determined by Abby's analysis of the size, dimension and unique varnish. It seemed like they would have figured that out sooner, but hey.
What was most intriguing about the case was not the evidence or the unfolding mystery but the fact that this powerful woman, a Marine martial arts trainer, was an abuse victim.
Sounds like someone we know. Ziva opened up to Georgia about similar abuse she suffered and made some inroads, although this could have been extrapolated upon further.
It seemed like a prime opportunity for Ziva's character to shine - relating to a suspect similarly strong, powerful, yet vulnerable - but the plot quickly moved in other directions.
Flashes of the old Ziva are better than nothing, I guess.
THE MAN: Gibbs always gets his, even if it takes longer than expected.
Like Georgia killing Travis, Tony being responsible for McGee's identity theft seemed obvious and maybe too sinister. Not that he didn't delight in McMiserables' woes, of course.
Thanks to DiNozzo's fine detective work, the culprit was brought in on charges ... of spying on and punking Tim. That kid had to be about 10. McGee's landlord's son of all people.
The pre-teen had Tim's routine down, so he knew how and when to strike. The funniest part was his telling Tim to get a life. We all know he needs to, but coming from a 10-year-old ...
Maybe he should be glad he doesn't have much of a life outside work. Tony brags that he does, but he's the one who knew exactly how to deflate that blow-up doll. Just saying.
Other thoughts and observations from "Freedom" ...
I can see Palmer's friends calliing him worse than "Black Thumb."
Tony will never have a better opening to launch into McNicknames.
Gibbs catch of the week: Georgia's "get to" vs. "have to" remark.
Ziva-ism of the week: "pool dolphin" instead of pool shark.
The kid was right. Ziva is kind of a smokin' hot chick.
What did you think of last night's NCIS? Discuss!
Steve Marsi is the Managing Editor of TV Fanatic. Follow him on Google+ or email him here.