The straight man stepped into the spotlight on Parks and Recreation this week.
No, not Ron Swanson, even though he's as straight as one can get.
I mean, of course, Ben Wyatt, the deadly serious accountant played by Adam Scott, the former 18-year old small town mayor who bankrupted his home town and who, up until "Media Blitz," was mostly used in the background, as the voice of reason in a building dominated by such personalities as Tom Haverford and Andy Dwyer.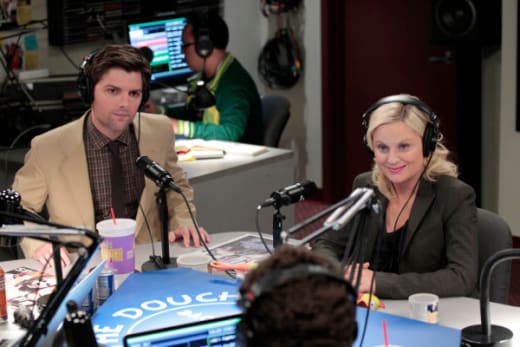 Scott is a master at this role. He cracked me up last week by simply talking about calzones at every opportunity and failing to bond - in any way whatsoever - with the police chief.
The laughs weren't as loud on "Media Blitz," as it was more of a squirm-inducing half hour of television. But any time you feature a radio personality known as The Douche, especially one Tom clearly admires, you're in for a good time overall.
We also watched Leslie save the day for Ben once again. His admiration for her quirky, effective style is growing each week. Can you imagine what it will be like when these two finally date? Combine her enthusiasm and affection for public events with his reserved nature and... well, we're not sure what we'll get.
But I can't wait to to find out.
Elsewhere, Ron needed a break after events with Tammy - getting your mustache frictioned off and your hair cornrowed will make anyone tired - but he at least found time to give April an inspiring pep talk. As inspiring as someone can get without smiling or raising his voice, that is.
I could have gone another couple weeks with Andy taking on menial tasks for his hopeful girlfriend, but I have confidence there will be plenty of laughs to come now that this pair is an official item.
Speaking of laughs, check out a few of best Parks and Recreation quotes from the installment now:
Man: Sup, guys? Just douching over here in Eagleton.
Tom: Sweet. | permalink
Ron: Why are you working the permit's desk, and why was that child clubbing your nuggets? | permalink
April: Do you have Internet in your office?
Chris: Yes. | permalink
Leslie: And I even called Oprah. Well, I tried to call Oprah. Couldn't get her number. I'm putting it out there, like The Secret. And hopefully she'll call me. | permalink
Ron: I'm going to type every word I know! Rectangle. America. Megaphone. Monday. Butthole. | permalink
Ron: Took her home. Polished her up. Bought a brand new ribbon off of electronic bay dot com. | permalink
Matt Richenthal is the Editor in Chief of TV Fanatic. Follow him on Twitter and on Google+.