After seeing the previews for this episode and hearing about how "meta" it was going to be, I wasn't sure how I would receive "The French Mistake."
I enjoyed similar episodes like "Changing Channels" and "The Monster at the End of the Book" for their ability to poke fun. It's always nice to see mentions of the fandom, as well as recognition that the show doesn't take itself too seriously.
Sure, Supernatural is a show about brothers that fight demons, ghosts, monsters, and every other type of evil being. Yet, it also thrives on its cleverly written humor, references, and the fan base that tunes in week after week.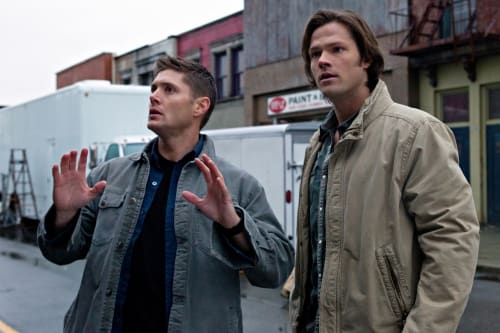 So, yes, Dean, we do care about watching a television show about your lives. It's fascinatingly entertaining.
Of course, some people may have found this episode terrible because of its diversion from the current season's plot lines. Frankly, I didn't mind.
As much as I enjoy the mythology and general core of the show, I do appreciate the chance to take some time off and allow Supernatural to mock itself and tip its hat to the dedicated fans. There were so many little nuances and inside jokes, that I'm pretty sure I'd need to watch it a couple times to pick up on all of them.
The scene that made me laugh the hardest was when Sam and Dean attempted to act. Dean tried to find his mark and put on an extremely serious face, while Sam awkwardly spoke his lines and tried not to stare into the camera. It was perfect comedy. Even the way everyone around the brothers couldn't believe what was going on, added to the hilarity.
Then there was the ever enjoyable Misha Collins who got a chance to stretch his acting range by playing Misha Collins as an ugly sweater wearing, Twitter maniac who simply wanted to be Jared and Jensen's pal. It was great to see him "acting" his deep growl of an Angel voice, as well as squeal in frightened panic.
Plus, Misha tweeted live! "Hola mishamigos. J2 got me good. Really starting to feel like one of the guys." Talk about blurring the reality lines.
The jokes about Jensen Ackles and Jared Padelecki, who play Dean and Sam, occurred throughout most of the episode. YouTube videos of Jensen's soap star days, giant photos of Jared on horseback, the idea that in real life they are vain, overly rich, and pretentious, were only a few of the many self referential jokes.
Jared's real life wife, who played the character of Ruby, showed up to play Jared's wife in the episode. Confusing? Not as confused as Sam and Dean were in trying to put the pieces together. It was a nice touch.
Even the members behind the camera jumped in the line of joke fire. Making fun of Bob Singer for naming a character after himself, Eric Kripke getting gunned down (along with what seemed like everyone), and the general production of the show took the behind the scenes reality of the show to a whole new level.
Overall, this was a fantastic episode that utilized its humor efficiently for a fun fan look at Supernatural. I'm all prepared to return to the monster storylines, but breaking the fourth wall for one episode was worth it.
What were some of your favorite moments or what made you think Supernatural should have avoided this meta episode? Sound off below.
Sean McKenna was a TV Fanatic Staff Writer. He retired in May of 2017. Follow him on Twitter.