It only took me one episode to underestimate Shawn Ryan.
On my series premiere review of The Chicago Code, I referred to "the obligatory scene of Colvin demoting a veteran" cop. I assumed this was simply thrown in to prove Teresa's mettle and even to give Fox a quote for its promos ("You think you can change the way thing are done... in CHICAGO?!?")
But "Hog Butcher" didn't waste much time proving me wrong.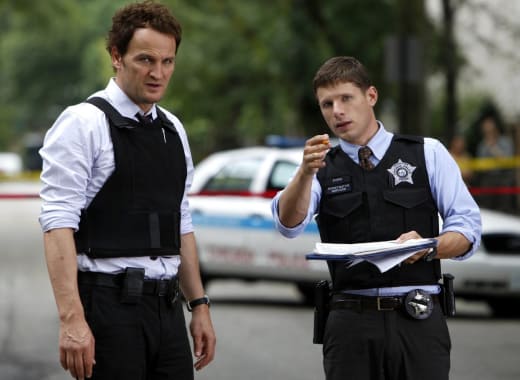 Thanks to a tightly-focused hour that dedicated itself to tracking down Antonio's killer, viewers learned that there was a purpose behind Teresa's actions from last week. And definitely a fallout.
That one decision led to the death of her driver, while it also gave us a glimpse into a superintendent who doesn't exactly know it all just yet. As Wysocki explained, there's a difference between corruption and "the way things get done." It's important to show Colvin stumble a lot early on, or else there's no real cat-and-mouse game between her and Gibbons.
There's simply a cat who easily pounces on her mouse.
But this incident shook Colvin up, as portrayed well by Jennifer Beals in her eulogy and subsequent reaction to Antonio's mother's lawsuit. It's not that Teresa will take her foot off the pedal in her race to bring down Gibbons; it's that she must learn in which direction to steer. It can't be full speed ahead all the time, especially when the force will actually need the Alderman's help at various times.
The burden is on The Chicago Code to set itself apart from other police dramas, and this installment did a fine job of establishing its focus on characters over cases.
How great was that scene between Wysocki and the nun in church? While throwing out one important mythology nugget (his brother's killer is still on the loose), it also set Jarek up as a man well aware of his shortcomings - and not intent on doing anything about them any time soon.
While the pilot set up the premise of Colvin and Wysocki tacking Chicago corruption, this episode gave us more insight into each of these individuals and the obstacles they might face in accomplishing that task. What did everyone else think?
Matt Richenthal is the Editor in Chief of TV Fanatic. Follow him on Twitter and on Google+.