We were treated to a very Community-esque episode of 30 Rock this week, as "Queen of Jordan" took on the theme of a Bravo reality show. Everything about this spoof worked.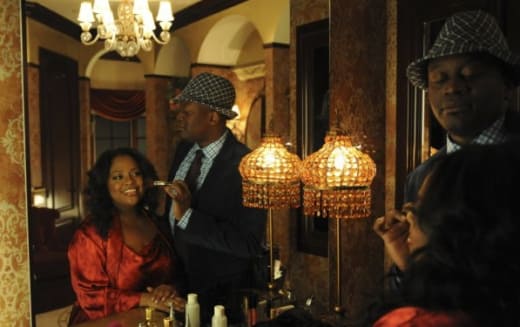 I'm a fan of some reality TV, but not most of the programs 30 Rock was making fun of here, so I had no problem with them butchering the genre. Between the character tropes, the manufactured drama, and ridiculous subtitles, they nailed it.
None of the minor characters on Queen of Jordan were all that funny, but Angie took a big step up this time around.We had her asking"who the f*ck are the Beatles?" and her constantly yelling at Liz to stop doing impressions of other racists. She was as fantastic as it gets.
I didn't quite catch on until half way through their conversation, but once I realized that the subtitles for Jack and Liz's convo behind the costumes were completely unnecessary, it made that entire scene that much more funny.
But those subtitles weren't as good as some of the titles used to portray characters in certain negative lights...  
Kenneth: Elderly Page
Dot Com: Grizz's Best Friend
Grizz: Greg's Best Friend (followed by Grizz having to leave to meet Greg for lunch)
Jack: Tracy's Gay Boss.
Speaking of Gay Jack, as he was later known, Alec Baldwin was brilliant, abnormally stumbling his way through this episode. Jack Donaghy does not usually get depicted in a negative light, so to see him spend the entire episode trying to look like an athlete only to then get made to look gay, was great.
Meanwhile, Jenna and Pete had similarly good nights. Jenna as an attention whore and Pete as an apathetic jerk is not new material for these two, but because Jenna was doing it to play for the camera, it seemed a bit more fresh. And Pete's ability to care so very little during Jenna's artificial intervention had me in stitches.
The Frank plot, co-starring Susan Sarandon as the sex offending school teacher, was the only one that missed the mark. Other than Frank choosing the teacher over Skelator, which will never cease to be funny, it all seemed played out and a little too creepy. We all know Frank is weird, but this might have been taking it to another level.
All in all, it was a great way to get by with the lack of Tracy Morgan. Relive it in our updated 30 Rock quotes section.
Dan Forcella is a TV Fanatic Staff Writer. Follow him on Twitter.