When it comes to Nikita teases and spoilers, nothing gets more juicy than this promo. Seriously, go watch it now.
But Melinda Clarke has offered up some interesting scoop of her own in a new interview with TV Line, telling Megan Masters that her character calling for the "cancellation" of Alex doesn't necessarily mean Amanda has it out for this former protege.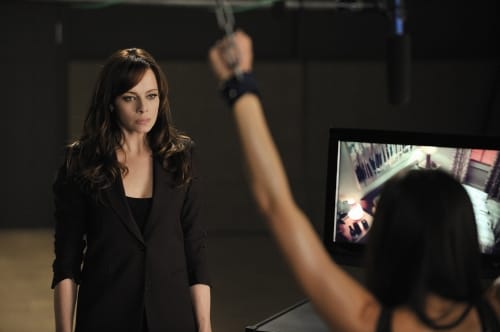 "She's trying to help her become the best she can be, and in that she's the ultimate tiger mom," Clarke says. "She's sees some brilliance in Alex, but at the same time, if there's any weakness or doing something you shouldn't be doing, á la Alex, Amanda might just use it to her advantage."
Overall, the actress assures fans that Amanda is not finished with Alex. The former will continue to dig into the latter's past, which will result in field action for Amanda.
"We'll see some physical stuff coming up for her, but everything Amanda does is elegant and efficient - and the fighting will be the same," says Clarke.