America's Next Top Model Review: Getting Hot in Here...

Kate Moon at .
On "Francesco Carrozzini," Alexandria quickly established herself as the Carrie-esq (the scary high school girl, not the on from Sex and the City) figure at the Top Model penthouse, while the girls literally walked through fire for their careers.  Let's break it down.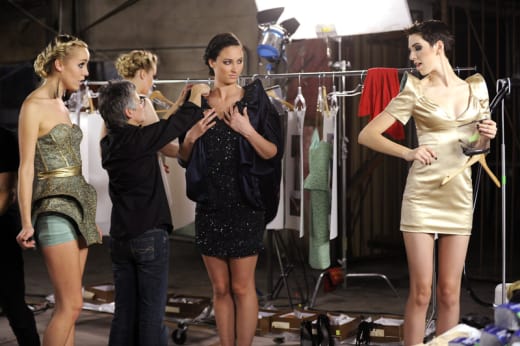 The Challenge
Tyra constantly strives to tell the girls that being a model is not all about being pretty; as a way to prove her point, she often subjects the contestants to not so fun photoshoots and contests. This one ended up as one of the most dangerous challenges in Top Model history. It's not enough that the girls must walk through fire. They must literally hold fire in their hands as they look hot and sexy on the runway.
The effect of girls walking through fire is pretty cool... in a "models-in-Hell" sort of way, but making the girls hold fire in their hands doused with lighter fluid is frightening to say the least.
Miss Jay's great advice?
"If your hands get on fire, just clap them together."
Dalya looks quite elegant walking through flames and wins two beautiful dresses for her troubles. Meanwhile, the girls in the bottom three are punished by walking home, which seems unnecessarily cruel yet again.
The Photoshoot
The theme of the commercial was basically Mad Men. Who's hotter than Joan Holloway, after all? Not a bunch of these twiggy girls. The girls are padded all over for this photoshoot, as they embody sexy secretaries who must sell coffee. They look stunning: feminine, sassy, doe-eyed, with amazing 1950s get-up.
Sara comments on the demeaning nature of the shoot. While her points are valid, I find myself not taking her very seriously because she was the one who wanted sexier, longer hair for her makeover and has doubts about looking too androgynous. I think the girls look gorgeous and full-figured, which is a healthier body image perception than too-thin ideals of the modern world. 
The commercials themselves aren't as empowering as they could have been. Because the girls are instructed to embody 1950s secretaries, they have to be sexy and seductive while playing the innocent vixens. It's definitely not a role that current women feel comfortable portraying. 
Alexandria's bossy nature can't contain itself any longer and bursts out in full force during the commercial. Hopefully, she'll get more than a slap on the wrist this time around. 
Judges' Table
The commercials aren't great, although most Top Model ads are pretty painful to watch. Kasia is highly praised for her performance and Tyra even says that she's one of the best performers they've had. Jaclyn does a cute booty dance for the judges in lieu of her fake booty during the commercial.
Sara and Alexandria are predictably in the bottom two; Sara goes home for lacking in confidence while vile Alexandria lives to fight another day. She gets a second pass from Tyra, but we all know she can't change her frightening personality.
Do you agree with Sara's elimination?