The Top Chef finale is set, and it will not include Antonia Lafaso. The contestant was eliminated following this Wednesday's episode. How did she react upon being sent home?
"I was a blubbering mess," she told E! News. "I don't even have another word to describe it. I could not form two words for quite some time afterwards. I'm usually not a public crier. But I think Top Chef brings that out in me, a very vulnerable side."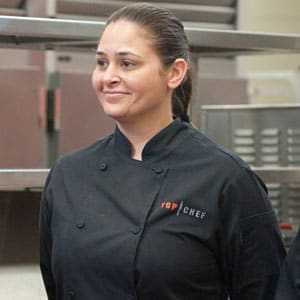 Did Antonia think she deserved to get the boot? Nope: "I feel like I deserved to be there to the end."
Okay... then whose spot should she have taken in the finals?
"It could have been Richard or Mike. [Laughs.] At the end of the day, I wanted to be there until the end. But I do have to say that I have to trust in the judges' decision. I played fair. And I think the judges played fair. It was hard to swallow. And it was hard to swallow last night listening to their comments...
"Unfortunately, it's not a cumulative show. If it was cumulative, I would have been there at the end. You can check the scoreboard. Check the scoreboard, please."