"Placebo Effect" was the second half of a dark, unusually complex two-part episode of Archer (picking up where "Stage Two" left off). How did the TV Fanatic staff feel about it?
We break it down here in our weekly Archer Round Table Q&A:
What was your favorite Archer quote from last night?  
Dr. Toboggan: Lana - "Chain smoking joints the size of tampons." Archer - "Eww." Lana - "It's just a figure of speech."
Mark F: Archer: "Survey Says..."
Eric H: I'd love to just recite the entire Family Feud scene (best scene ever!) here, but I'll keep it simple with: "Hmm. Cock flavored spit? Well you never know what's gonna be on the board! Let me see cock-flavored spit!"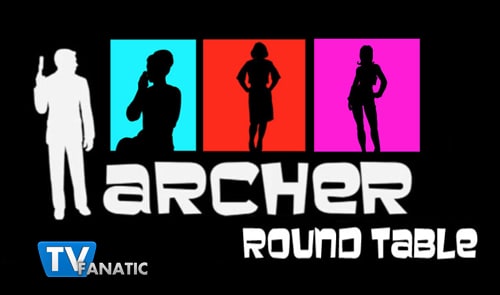 Archer's hair is his fifth best feature? Name his top four.

Dr. Toboggan: 1. Woodhouse. 2 His liver. 3. Turtlenecks. 4. His selflessness. 5 His spy tools (poison pen whose cap slips off for almost no reason).
Mark F: Why would it be? Clearly his top 5 best features are: 1) His turtleneck (or slightly darker black tactical neck) since they can get him through any situation unless Duffel Bag shows up to rip things apart. 2) Being an ISIS agent since he enjoys telling every harlot from here to Hanoi not to mention the standard issue big mitteny gloves. 3) His liver - obvious. 4) His wit - "Count Bullets-ula... like Count Dracula. No. Wait. Come back to me I can do better" - not mention naming his new movie and so many other examples. 5) His hair, and I think this is his next best feature: 6) Lana's epic boobs - Could be just me but if I had access to them every now and again I would consider them one of my best features.
Eric H: 1. His piercing blue eyes. 2. Ability to recover from gun / harpoon shots between episodes. 3. Impeccable style. From Hermes ties to turtlenecks. 4. Jon H. Benjamin's voice.
Clearly the Brazilians would have the hottest mafia. Which country would come in second?
Dr. Toboggan: Sweden. Imagine an army of Swedish women attacking you? Worse things could happen.
Mark F: Venezuelan. Not for the obvious reasons for those who know me but you just can't argue with the number of their Miss Universe titles. They have won something like 3 or more of the last 5 competitions and probably even more than that... and naturally I assumed politics plays no role in this question.
Eric H: No way this one would count as mafia, but I'd definitely say Libya with Gaddafi's army of 30 virgin women. They're kind of organized crime now, right?
Best. Archer. Episode. Oh, at least in my opinion. Your thoughts, boys?

Dr. Toboggan: I'd say one of the best. Last week's was hysterical and I think Mallory had the best line of the series, as Mark pointed out. The pipeline was also really good. But sure I'll go top 4.
Mark F: Thus far, probably "Pipeline Fever" because not even I have ever been able to work in a whaling joke about "clean burning lamp oil" and I have definitely had drinks thrown on me for some highly offensive one-liners while drunk (it's clearly when I'm at my most creative and do my best work and funny enough I wasn't even talking about the girl. My joke was just that offensive). And also I enjoy run-on sentences and long walks on the beach... Me Too!
Eric H: Duh, as stated in both my question and my review: Best. Archer. Episode.

Did you see Regis this morning?

Dr. Toboggan: Of course I watched, I'm not blind and I have a heart.
Mark F: No. I thought he quit. Last I heard I'm pretty sure he was involved with a Pump-and-Dump of Micron Tech (MU). And, no, it is a Wall Street term not Archer's version of Hit-it-and-Quit-it but hey there's a plot line: "Archer goes to Wall Street"
Disclosure: (so we don't get in trouble) Regis is not involved in an illegal "pump-and-dump" scheme. He was a guest on CNBC's Fast Money in December where his "stock pick" was Micron Tech and since then it is up around 20%+ but he made an erroneous joke about how "insiders" told him. And, yes, he still does his morning show although I do believe he's leaving soon.
Eric H: No, but luckily I caught the sun rise this morning. Hah. More like Magnum P.U.
Eric Hochberger is the programmer of TV Fanatic, so please forgive his mediocre writing. His programming is far better. Follow him on Twitter and/or email him. Just don't request threaded comments. They're coming.