The season five premiere of Army Wives, "Line of Departure," got off to a slow, but heartfelt start. I'm used to the seasons coming in and going out with a bang, so this was a bit of a change from the familiar. Each of our spouses were dealing with their own issues, and they seemed more alone than usual.
So far, we have had only one marriage fall apart on Army Wives. However, I can't help but question the future of Joan and Roland. It seems every time they are on the same page, it turns so fast that their entire relationship takes on a new dimension.
Roland has one of the most difficult roles, married to a strong, forceful Army Colonel. Even being a house husband, he loves his wife and daughter so much he hopes for another child and, in his heart of hearts, that Joan will want the same and to take a step back from the Army. By the end of the episode, he's sitting at a dinner table, very much alone. His view of marriage differs so greatly from Joan's that I would not be surprised if they were the next couple to possibly split.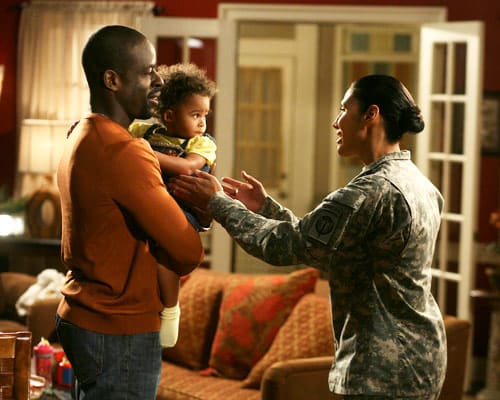 Roxy is really missing Trevor, and being tested every day by their eldest son, TJ. He's unhappy, unruly and disrespectful. It hurts to watch her struggle to keep it all together. She got a little breathing room and some perspective when Finn's father visited. I enjoyed seeing her with someone from her past, slipping into memories of Alabama and realizing how far she has come. I really appreciate the strength we see in Roxy and have no doubt TJ will soon be towing the line.
I was disappointed in the story of Denise and Tonya meeting for the first time. Perhaps it's just the overload of being a new mother, along with her husband getting deployed, which caused Denise to seem so judgmental. It honestly didn't feel like her. She's been through so much in these four seasons and I just didn't buy the story of her doing to Tonya what she suffered herself. I expect more from her.
At the end of last season, there was a possibility that Pamela would get an Army Wives spinoff, so now that the door closed on that opportunity, she's instead deciding between taking the job we know she won't take, and going back to Chase. That is, until one of my favorite guys, Boone (played by the ever lovable Lee Tergesen) tosses himself into the melee by kissing her and expressing his feelings for her.
I have enjoyed Tergesen in every role since HBO's OZ and I hope there is a possibility of him staying on the show. He thinks so much more of Pamela than Chase ever did, and while the easy road would be to have her and Chase reunite, it would be much more satisfying to have Pamela enter a supportive relationship.
Finally, I am shocked at how well things went with Claudia Joy taking Emmalin to college. The last time she was getting ready to take a daughter to school, that child was killed. Looking at the photos of her family as it once was, when they were all together, was a nice touch. She didn't even break down and cry. Maybe she's in shock, or she has come a very long way in dealing with her grief. I figure she's going to be hot in her pursuit of her law degree as she faces "empty nest syndrome."
I was a little underwhelmed with the premiere, but I will give it props for setting up what I expect will be the tone of the season. There is some concern, based upon this effort, that they may have run out of stories for our friends. But I will keep hoping for episodes that feature these women spending more together than apart, as they get the support from one another that solidify the feeling of friendship that makes Army Wives so special.
Carissa Pavlica is the managing editor and a staff writer and critic for TV Fanatic. She's a member of the Critic's Choice Association, enjoys mentoring writers, conversing with cats, and passionately discussing the nuances of television and film with anyone who will listen. Follow her on Twitter and email her here at TV Fanatic.