I can't imagine Breakout Kings getting better than it was tonight. The return of Theodore Bagwell was everything former Prison Break fans could have hoped for, giving us the most exciting episode of the show so far.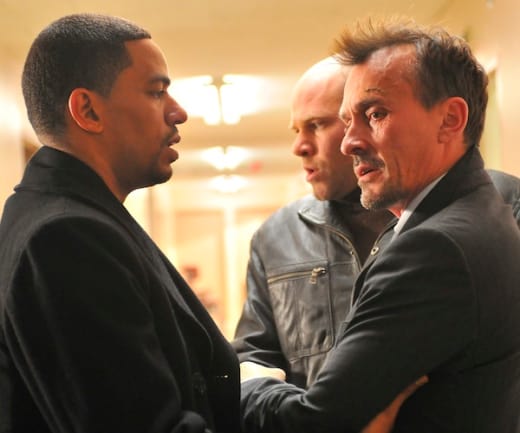 "The Bag Man" began with a vicious escape, with T-bag stabbing his transport guard to death with his broken prosthetic arm and never looking back. He left a trail of bodies in his wake as the team thought they were tracking him on his way to Canada. They were wrong.
T-bag's goal was far more personal. Turns out, two men violated his ill mother  and stole her jewelry. Although such a heinous crime would surely buy them a ticket to Hell one day, T-bag was determined to help them reach their destination a whole lot quicker. He killed them in the bloodiest, most painful ways he could think of, stabbing one with every utensil and instrument he could find before shooting him, and sending the other to be eaten alive by a rock grinder in a quarry. 
Somehow, this monster still managed to show us his human side. He had to say goodbye to his mother even though he knew it would buy him a trip back to prison. When he told the unconscious woman "I won't be seeing you in heaven, but you enjoy it for the both of us," I almost had empathy for the man. Almost.
With the carnage of the chase came some great scenes with our new team. Erica turned out to be quite an asset, showing off her skills from her skip tracing days with her daddy. We finally witnessed why Charlie picked her to be on his team.
Again, Lloyd was the standout for me. He tried to explain to Shea why T-bag was so dangerous, how the man was capable of meticulously planning and executing  the most heinous crimes with cold precision, but would also kill when sent into a rage, not caring what evidence he left behind. And then there were the times T-bag would let a victim go, as if to prove to himself that he still had a conscience. 
Lloyd's fascination came to a head when he finally got to sit across the table from the psychopath he'd spent so much time analyzing. As T-bag taunted him, Lloyd gave his final analysis: "Some machines just come out of the factory broken." Even T-bag couldn't deny the truth when he heard it.
The expectations were high for this episode and Breakout Kings hit it out of the park. I only hope it can continue to do so with its own original characters in the future.
C. Orlando is a TV Fanatic Staff Writer. Follow her on Twitter.