Following the tension filled two-parter, Castle returned this week with ""One Life to Lose," an episode that brought back the funny, as well as a whole lot of guest stars. 
 The installment centered on a fictitious soap opera called Temptation Lane, which Beckett just happened to be a huge fan of. The hour was filled with soap stars such as Corbin Bernsen, Rebecca Budig, Cameron Mathison and Jane Seymour. We also had a small visit from David Eigenberg, who reminded me how much I miss him since his days as Steve Brady.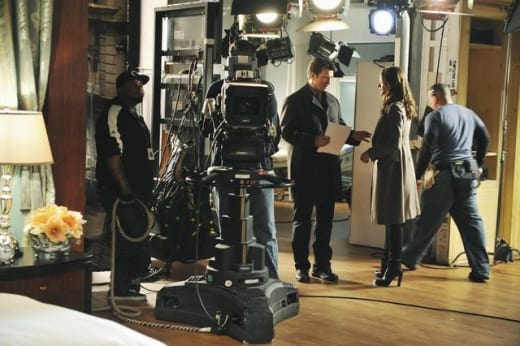 There are many reasons to love this series. It is witty and possesses great comedic timing, but most of all, it knows how to make fun.
Case in point: this nod to Nathan Fillion's soap opera past on One Life to Live. Overall, it was pretty awesome. It also gave a chance for Beckett to address what us TV Fanatics love to call "shippers." They poked fun at how invested viewers become of a couple (we doesn't love some Caskett!) and provided us with the best line of the night:
Castle: Esplanie. Lanie and Esposito. Like Fox-Can. We can call them Esplanie, which is perfect because they are always explaining things! | permalink
I am officially putting in my request to have a boys' night for the detectives and
Castle
. They headed to
The Old Haunt
here
,
the bar Castle purchased in
"
Last Call
."
I am totally in for watching some bromance between the guys, especially if it means more awesome hand shakes between Castle and Esposito.
Some other thoughts:

"Katherine Beckett! I never..." Who knew that Beckett is an undercover soap opera lover? Keep peeling back those layers, Castle, and nice move getting those autographs!   

Looks like Martha is getting her groove back.
Alexis really needs an arc of her own, even if it is a small one. Get her in trouble, catch her with her boyfriend... just have her do something besides hanging at home with Martha.
Overall, a solid and balanced hour. A fun-filled follow up to the previous episodes. What did you think? Did you enjoy the slew of guest stars this week? Sound off now.